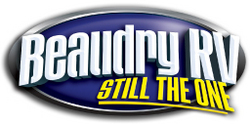 As any good dealer knows, the first rule in customer service is the customer is always right
Phoenix, AZ (Vocus) June 16, 2010
As the recession fades and RV sales start to rebound, one questions remains – do RV Dealers have any responsibilities towards their customers or is their only responsibility to the manufacturer? Beaudry RV Company not only survived the recession but has been expanding their sales and parts & service forces in the last few months. They credit their success to their customers, not the manufacturers they represent.
A good salesman can sell water in a flood. While good salesmen are imperative to the success of any company, so too, are the customers - especially in a service oriented business - like RV sales. Even though RVs are a large financial investment, those who buy an RV tend to buy RVs throughout their lives. Their children often buy RVs and recreate family memories. Over fifty million households own an RV. Therefore it's imperative to any company that wants to succeed to put customers at the top of their list of priorities.
While it is in the best interest of a dealership to sell as many RVs as possible, successful RV dealers understand that a first time RV purchaser who is looking at used RVs for under $20,000 may come back in five years to purchase a brand new RV for over $100,000.
The companies that succeeded during the recession took the time to understand their customers and cater to their needs. With so many competing companies, it's important for a dealership to have an on-line presence that is easy to maneuver for any age group.
Having BBQ's, concerts and rallies are other ways to bring RV enthusiasts together to create an RV community. Exchanging numbers and having experienced professionals on hand to answer questions, is one way to stay in touch with the core RV audience.
"As any good dealer knows, the first rule in customer service is the customer is always right," says Scott Beaudry of Beaudry RV Company. "If the customer is ever wrong, see rule 1."
Beaudry RV Company has been a leader in the RV Industry for over 40 years. Their customer service, parts department and summer events set them apart from other RV companies.
For more information on Class A Motorhomes, Class B Motorhomes and Class C RVs and Beaudry RV Company or current trends in the industry contact:
Scott Beaudry
Company: Beaudry RV Company
http://www.BeaudryRv.com
Phone: 520-239-5054
# # #