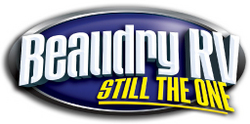 We've been posting relevant RV news and sales on Twitter for the last year
Phoenix, AZ (Vocus) July 28, 2010
Beaudry RV Company turns to Twitter to get the word out about deals, sales and the latest in RV Industry news. The social media craze has been in full swing for several years. Those utilizing social media fall into two general age groups: those in their early twenties and thirties and those who have retired or have children and grandchildren they want to keep up with. And those two age groups just happen to fall into Beaudry RVs key marketing groups.
RV Shows and buying trends are showing that consumers in their early twenties and thirties are purchasing their first RVs. They are driving the market towards lightweight travel trailers and eco-friendly products. They want affordable and something that can go anywhere. This same generation of buyers turns to Facebook and Twitter to find out about sales and deals on their favorite products. The older generation, trying to keep up with kids and grandkids are also utilizing Facebook and Twitter.
"We've been posting relevant RV news and sales on Twitter for the last year," says Beaudry RV Company. "We have a loyal customer base and we want to be sure they are up to date on our latest products, sales and company events."
A new study released July 13, 2010 by ExactTarget finds nearly 40% of consumers turning to Facebook and Twitter to supplement the news, information or deals they receive via e-mail marketing, reports RV Business.com.
"Staying tuned in to how people prefer to receive their information gives us a boost up over other companies," says Beaudry.
Beaudry RV Company has been a leader in the RV Industry for over 40 years. Their customer service, parts department and summer events set them apart from other RV companies. They carry an extensive selection of Class A, Class B and Class C RVs.
For more information on new and used RVs and Beaudry RV Company or current trends in the industry contact:
Scott Beaudry
Company: Beaudry RV Company
http://www.BeaudryRv.com
Phone: 520-239-5054
# # #