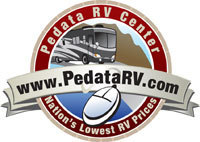 Phoenix, AZ (Vocus) April 3, 2010
Pedata RV Center recognizes the RV industry as a valid economic indicator for the United States economy. Experts theorize that the RV industry is the first to feel the negative effects of any recession or depression. The theory circles around to conclude that the RV industry is also the first to recover.
In the midst of the most recent recession deliveries were down by 40%. Experts in the industry consider the current economic climate as positive in the RV industry. Dealers see consumers spending money again. Production lines are busy at RV manufacturing plants.
Gerard Pedata of Pedata RV Center responded, "The RV industry is an accurate barometer for the economy. People are spending money on RVs again. People are accessing credit to make large RV purchases again. The RV industry is back on track and, historically, that means that the US economy will be back on track again shortly."
Pedata RV Center offers a wide variety of online inventory at wholesale pricing to the public. Their place in the industry as a distributor offering wholesale pricing has made them one of the first to see renewed interest in RV buying. Americans have always had a love affair with the great outdoors that was exhibited by their immediate adoption of the German motor car into the very first RVs. Americans see the RV as the vehicle of freedom providing access to the open road and adventure. The American love of the RV is shown by the place of the RV industry as a strong indicator of general economic health as well as the more entertaining RV Hall of Fame in Elkhart, Indiana.
Pedata RV Center offers regular updates through their website providing consumers and RV owners with information regarding industry news, inventory specifics, Fifth Wheels, RVing tips and guidelines, campsite suggestions, etc.
For more information on Pedata RV Center:
Contact: Gerard Pedata?
Company: Pedata RV Center?
http://www.PedataRVCenter.com?
Phone: 1-888-545-8314 or 520-807-0900?
# # #