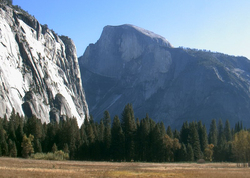 Los Angeles, CA (PRWEB) July 26, 2009
El Monte RV, one of America's largest RV rental companies, has created a comprehensive information portal for travelers planning to visit U.S. National Parks by RV.
This approach allows anyone from around the world arranging a trip to U.S. National Parks, Forests or Federal Recreation Areas to find complete information on campsites, fees and area attractions quickly. A single page on the El Monte RV Rental site links to National Parks Service web pages for every state.
In addition, the recreational vehicle rental firm provides information on the America the Beautiful National Parks and Federal Recreational Lands Pass, an annual pass available through the Parks Service that allows non-commercial vehicles access to sites normally charging a per person fee.
By combining information on recreational vehicles available for rent with a comprehensive guide to U.S. National Parks, El Monte RV facilitates streamlined travel planning. With more than 60 RV rental locations, the recreational vehicle sales and rental firm hopes to encourage rv rental travel planning by making National Parks tourism a more attractive option.
About El Monte RV
Headquartered in Los Angeles, El Monte RV is one of America's leading motorhome and RV rental and sales companies, catering to both international and domestic travelers. The company has experienced rapid growth throughout the United States thanks to its reputation for exceptional customer service. El Monte RV is the only nationwide motorhome rental company to offer the larger Class A luxury vehicles for rent. For more information about El Monte RV, contact 800-337-2141 or visit our website El Monte RV Rentals.
# # #