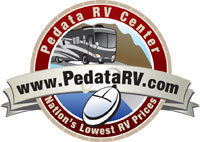 Phoenix, AZ (Vocus) November 24, 2010
Pedata RV Center launches increased effort for online RV sales. In the past, RV dealers were limited to sales within their territory. However, through social media such as Facebook, Twitter and high search engine rankings, RV companies are now able to reach consumers nationwide. This is exactly what Pedata RV Center had done. Instead of investing in traditional media such as newspapers and radio, they have reached out to consumers through the most popular methods of communication, by utilizing social media. For the holiday season, Pedata RV is determined to lead the way in on-line consumer sales by offering Twitter-only based deals as connecting with consumers in their favored mediums.
Gerard Pedata of Pedata RV Center says, "Our extensive RV inventory, and low prices allows us to be competitive across the nation, not just in one state. We've found that excellent customer service, quality vehicles and competitive pricing gives us an advantage over local dealers."
Pedata RV Center built their website in a matter that is easy for customers to utilize, as people rarely spend more than a few minutes at a time on a site and that number drops to mere seconds if they can't find what they are looking for quickly. Pedata RV Center also utilizes Twitter to send out alerts on specials and news that might be relevant for their customers.
Pedata RV Center:

Reviewed by Validated Site
Offers Carfax guarantee on all purchases
Certified Good Sam Services Dealer
BBB accredited business
Family Motorcoach Association member
Pedata RV Center sells used RVs, travel trailers, fifth wheels, campers, and motor homes. Their full inventory is accessible online and due to their low overhead costs they are able to offer competitive pricing in their industry. Easy access to industry and recreational vehicle information allows consumers to have access to the specific knowledge they need to ensure their purchase results in long term satisfaction.
For more information on Pedata RV Center, or current trends in the RV industry visit Pedata RV Center online at http://www.pedatarvcenter.com or contact Gerard Pedata:
Contact: Gerard Pedata
Company: Pedata RV Center
http://www.PedataRVCenter.com
Phone: 1-888-545-8314 or 520-807-0900
Email: sales (at) pedatarvcenter.com
# # #