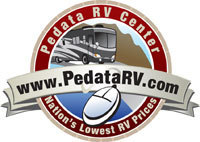 Phoenix, AZ (Vocus) March 13, 2010
Pedata RV Center sees a notable increase in the amount of interest at local sales lots and online sales outlets due to the seasonal influx of out of town visitors. Many call the seasonal visitors snowbirds as they enjoy the mild winters and typically leave the area before the intense heat of summer sets in. Snowbirds are arriving in higher numbers in comparison to last year according to the Arizona Association of RV Parks & Campgrounds.
The group is reporting that the campground occupancy is averaging 30% in comparison to last year's 10% average. Many campground managers are indicating that they are seeing more snowbirds extending their stays through March/April. Industry leaders suggest that reasons for the drastic rise in campground occupancy could be due to: the strength of the Canadian dollar, the improving stock market or affordable fuel prices.
Gerard Pedata of Pedata RV Center suggested, "Pedata RV Center has noticed a large increase in lot traffic. A lot of out of state people and a large amount of Canadian folks are spending time looking at RVs; the snow birds have arrived. More lot traffic and an upswing in Arizona RV park business mean more possible RV sales. Hopefully this is a sign of what 2010 will have in store for RV sales in Arizona. In January Pedata RV Center saw a 50% increase in sales over 2009."
Pedata RV Center offers used and new RVs direct to the public at wholesale prices. Their low overhead costs in the midst of the recession have enabled them to continue to provide high quality RVs to consumers at affordable prices. Local lots as well as online inventories provide for the needs of consumers looking to adopt the RVing lifestyle.
For more information on RV sales, Pedata RV Center or current trends in the RV industry contact:
Contact: Gerard Pedata
Company: Pedata RV Center
http://www.PedataRVCenter.com
Phone: 1-888-545-8314 or 520-807-0900
# # #