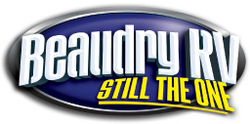 RV rentals usually spike during the summer months, but we believe this year we'll see even more people renting and traveling by RV than in the last few years
Phoenix, AZ. (Vocus) May 26, 2010
Beaudry RV Company expects RV travel to be on the rise this summer. A number of factors are adding up to see Americans enjoying their time off in RVs as opposed to hotels. Over 8.2 million households own an RV reports RVIA. With prices of hotel and airfare seeming excessive to many travelers, RVing and camping are quickly taking the place of overseas vacations.
RVIA had a survey conducted to gauge the amount of travel RV enthusiasts are expected to do and the reasons behind it. What they found was nearly half of RV owners are expecting to use their RV more than last spring and summer. 41% of current new and used RV owners claim they will spend the same amount of time on the road this year as last year.
The reasons behind increased RV travel? Cost is the biggest. Traveling by new or used motorhome can result in savings over traditional forms of travel including airfare, hotel stays and eating out. Being able to get out and explore or pick up and go at will is another big draw, especially for those spending extended periods of time on the road.
The majority of RV enthusiasts believe that RV vacations result in more active vacations than other types of vacations and 71% of RV owners say they will visit National Parks this summer. With National Parks offering fee-free weekends, it's an added incentive to travel by RV.
Campgrounds are preparing for an influx of visitors this summer. They are offering eco-friendly accommodations as well as recreation for all ages of family members.
"RV rentals usually spike during the summer months, but we believe this year we'll see even more people renting and traveling by RV than in the last few years," says Scott Beaudry of Beaudry RV Company. "Campgrounds have become more modern, and costs work well for family budgets, not to mention RVing is one of the most beautiful ways to see everything this country has to offer."
For more information on new and used motorhomes and Beaudry RV Company or current trends in the industry contact:
Scott Beaudry
Company: Beaudry RV Company
http://www.BeaudryRv.com
Phone: 520-239-5054
###