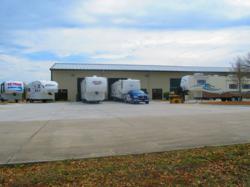 Green Cove Springs, FL (PRWEB) April 25, 2013
RV Roof.com is pleased to announce they have expanded their work shop to add an addition bay, as well as add two full-time employees to keep up with demand.
These additions will provide the opportunity to maintain on time service, while completing more roofs per week. The expansion to the facility moves from two existing work bays to three. With the increased work space, RV Roof.com is now able to complete five roofs per week, at a minimum.
Over the past seven years, RV Roof.com has offered customers their specially formulated pure polyurea designed for the unique needs of RV roofs. The RV FlexArmor is a unique combination of strength and flexibility with the added adhesion qualities needed for varied surfaces on an RV roof.
One of the primary reasons for expansion will be to set up in-house distribution for the unique pure polyurea. RV Roof.com will now offer the chemical to other coating companies looking to enter the marketplace to gain a foothold with a proven RV pure polyurea. In addition, RV FlexArmor will be available for existing dealerships to purchase.
This is not a version of elastomeric or paintable polymers that is available in the aftermarket RV industry. RV FlexArmor is a special product that requires investment or proper equipment. It is not a do-it-yourself product, qualities needed for varied surfaces on an RV roof.
Previously, RV Flex Armor could not be purchased. It was only available and applied by authorized applicators trained at the RV Roof.com facility. For more information about RV Roof.com or RV FlexArmor, please visit their website at: http://www.rvroof.com.
<br>About the company:<br>
See the difference RV Roof.com's 20 Year Sprayed Roof can make on RV roofs. Their sprayed roofing removes all the existing caulking joints on a current roof, and creates a seamless roof that no longer will leak around fixtures or roof edges. All screw holes, frames and edges are covered providing a durable, yet flexible roof for RVs. Contact them today at 904-814-2104 to schedule an appointment.