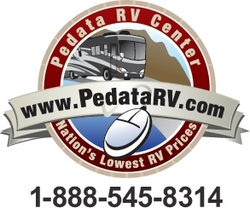 Next year is the RV industry's time to shine. We plan to celebrate our heritage and our future
Ferndale, WA (Vocus) September 19, 2009
In 1910, the first motorized campers hit the road. An alternative to sleeping in train cars, motorhomes allowed explorers a way to find the road less traveled with a safe place to sleep. Henry Ford, Harvey Firestone and Thomas Edison camped together in Model-Ts outfitted for camping. Today's modern RVs are a far cry from those first campers with amenities like TV, satellite, microwaves and toilets. Explorers now have the luxury of thousands of designated camp sites , but the call of the wild is still available with dusty roads leading to views of mountains, the ocean and canyons.
"The ability to explore literally every crevice of this country with an RV while still having the comforts of home is a privilege Americans have always responded to," says Gerard Pedata of Pedata RV Center. "That's why we're making the RV even more affordable in the centennial year."
Pedata RV Center has created special incentives for people looking to purchase RVs in 2010. Their customer service package offers accessibility and advice unavailable 100 years ago and is designed to show how far we can come.
"Next year is the RV industry's time to shine. We plan to celebrate our heritage and our future," says Pedata. "We've come a long way."
For More Information:
For more information on Pedata RV Center or current trends in the RV industry contact Gerard Pedata, General Manager, at sales(at)pedatarvcenter(dot)com or by phone at: 1-888-545-8314 or 520-807-0900. Or visit Pedata RV Center online at http://www.pedatarv.com.
# # #