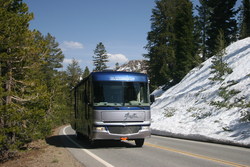 good times, good company, and good beer
Los Angeles, Calif. (Vocus) May 15, 2010
The criteria for a successful vacation experience vary widely from one traveler to the next. El Monte RV surveyed its customers to discover some of the reasons people chose to take motorhome vacations and some of the answers were surprising.
The survey asked a wide variety of questions about where customers were planning on traveling and their reasons for choosing a motorhome vacation. The most common answers to the first of these were ones the company expected such as national parks, major metropolitan areas, specific travel itineraries. The reasons for choosing a motorhome proved more interesting with the top answers being mostly freedom, flexibility, not having to pack and unpack, and to try something different. The answers to these questions were confirmations of research the company had done previously and were reassuring and unsurprising.
This year the company added a new question asking people to provide their definitions of a successful vacation. This question provided some unanticipated revelations. Among the most common answers were good weather, fun, happy family, and no stress. Some of the unexpected responses were sex, "good times, good company, and good beer," and well behaved kids.
Another new question asked what would make the trip better or easier. The responses to this question ranged from the more common "more campsite information before trip," and "if flights were on time," to the more extreme, "if my son in law would drive," a chauffeur, and, "if it were free."
The question that related the most to company performance: "Why did you choose El Monte RV?" was most commonly answered with referred by a friend and referred by a travel agent.
"We feel its important to get feedback from our customers so that we can adjust and adapt to their needs," said Kirby Sandberg, director of international marketing for El Monte RV. "We love to hear that most of our customers are hearing about us from friends and travel agent partners."
The El Monte RV customer surveys are anonymous and the data is being collected as part of the company's customer satisfaction initiatives. The company will continue with the current surveys throughout the summer season and expects that it will receive a great deal of interesting information from customers.
About El Monte RV
Headquartered in Los Angeles, El Monte RV is one of America's leading motorhome and RV rental and sales companies, catering to both international and domestic travelers. The company has experienced rapid growth throughout the United States, thanks to its reputation for exceptional customer service. El Monte RV is the only nationwide motorhome rental company to offer the larger Class A luxury vehicles for rent. For more information about El Monte RV, contact 800-337-2141 or visit our website El Monte RV Rentals.
# # #