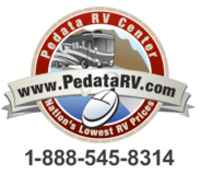 Arizona is a good example of a climate where you will need to top off your battery more often than you would in the Northwest, for example
Mesa, AZ (Vocus) March 27, 2009
One of the best things about RVing is being self-sufficient. And the battery of your RV plays a major roll. If you practice regular battery maintenance, you'll extend the life of the battery.
In the interest of educating RV owners, new and old, about proper battery maintenance, Pedata RV published "RV Maintenance & Repair - Battery Maintenance", a video that shows an RV owners how to perform basic battery maintenance.
"We want to show our customers how easy it is to clean and maintain their batteries in just a few steps. Good battery RV maintenance now will save headaches down the line," says Clint Ethington, manager at Pedata RV Center. "The video is 3 minutes long, that's just about the time it takes to perform basic battery maintenance."
There are many different types of RV batteries, some are maintenance free and some you need to check for erosion. The video quickly covers what to do for those batteries that need erosion control listing tools you will need for the process:

a wire brush
some battery terminal protector
rubber gloves
eye protection
The video also mentions that for 6 volt batteries that contain water, you will need to check the water level and top it off with distilled water every two months or so, depending on the climate.
"Arizona is a good example of a climate where you will need to top off your battery more often than you would in the Northwest, for example," says Ethington. "These battery tips are one more way to get the most, overall, out of your RV."
This and other helpful RV maintenance videos are available on http://www.pedatarvcenter.com. Look for the RV Service link on the left hand side of the website.
For More Information:
For more information on Pedata RV Center or current trends in the RV industry contact Clint Ethington, General Manager, at clint (at) pedatarvcenter (dot) com or by phone at: 1-888-545-8314 or 520-807-0900. Or visit Pedata RV Center online at http://www.pedatarvcenter.com.
Contact:
Clint Ethington
Pedata RV Center
http://www.PedataRV.com
Phone: 1-888-545-8314 or 520-807-0900
Email: clint (at) pedatarvcenter (dot) com
# # #