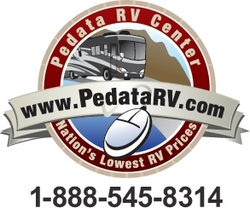 Phoenix, AZ (Vocus) October 7, 2009
Pedata RV Center is preparing for 2010…because 2010 marks the official 100th birthday of the RV industry. The recreational vehicle has officially been around for a century. The 100th birthday will be commemorated by a specially designed RVIA logo (industry players are invited to use the commemorative logo for appropriate marketing, etc.) and plans are in the making for a recreational vehicle caravan led by a historic RV to mark the event.
Gerard Pedata of Pedata RV Center said, "The fact that we're around to celebrate the 100th Birthday of the RV is huge; especially following on the heels of this recession. It's very telling that business never completely stopped during the downturn. The lifestyle is desirable. Prior to the recession the RV industry consistently experienced exponential growth. And the reason behind the growth was obvious: people want to be able to travel affordably and the RV is the answer."
The recreational vehicle has definitely gone through a mighty transformation in the past century. The first RVs were built to order campers that might offer a water tank, toilet, washbasin, a rear boot and roof rack and possibly an extra storage compartment or two. Today's RVs offer full kitchens and bathrooms, master bedrooms, and can often double as a full entertainment venue. Another change of note would be the price tag…1910 RV's would go for somewhere around $8-9,000. Today's RVs don't typically make the same claim.
For more information on Pedata RV Center, or current trends in the RV industry contact Gerard Pedata, sales(at)pedatarvcenter(dot)com or by phone at: 1-888-545-8314 or 520-807-0900. Or visit Pedata RV Center online at http://www.pedatarvcenter.com.
Contact:
Gerard Pedata
Pedata RV Center
Phone: 1-888-545-8314 or 520-807-0900
# # #