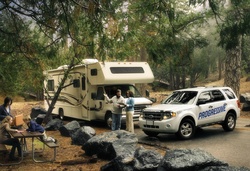 We're sharing this information about claims and coverages because we want RVers to understand what their policies cover and to make sure they have the protection that best meets their individual needs
MAYFIELD VILLAGE, Ohio (PRWEB) October 13, 2008
"Some people make the mistake of adding their RV onto their car insurance policy, only to find out too late that the car policy doesn't cover a lot of things that can go wrong in an RV," said Cathy Pelfrey, RV product manager, Progressive. "An RV is much more than a car—it's a house on wheels. So an RVer really needs a specialized policy that covers more than what standard car insurance covers."
As the number one brand of RV insurance sold through independent insurance agents in the country, Pelfrey says Progressive has seen its share of oddball claims over the years, as well as everyday mishaps that may be excluded from standard auto coverage. For example, if your RV is damaged during a trip, an auto policy could leave you out in the cold but Progressive's RV insurance would pay up to $2,000 for lodging and transportation so you could still enjoy your vacation. Similarly, expensive items like outdoor gear, laptops or other electronics stolen from inside your RV would be covered by an RV policy but typically would not be covered by an auto policy.
Specialized RV coverage can also protect you against depreciation if your RV is totaled. A car insurance policy could only pay the RV's actual cash value, but an RV Agreed Value policy would pay the amount that you and the insurance company agreed the RV was worth when you bought the policy, regardless of the RV's value at the time of the loss.
"We're sharing this information about claims and coverages because we want RVers to understand what their policies cover and to make sure they have the protection that best meets their individual needs," said Pelfrey.
While RV insurance covers most of what can go wrong in an RV, there are exceptions. Take the case of the customer who let his motor home fall into such disrepair that the roof seals were leaking, resulting in a small forest of mushrooms growing underneath his couch. Because RVers are required to maintain their coaches, this claim was denied.
To learn more about Progressive's RV coverages, go to http://rv.progressive.com.
About Progressive
The Progressive Group of Insurance Companies, in business since 1937, is one of the country's largest auto insurance groups, the largest seller of motorcycle and personal watercraft policies, and a market leader in commercial auto insurance based on premiums written.
Progressive is committed to becoming consumers' #1 choice for auto insurance by providing competitive rates and innovative products and services that meet drivers' needs throughout their lifetimes, including superior online and in-person customer service, and best-in-class, 24-hour claims service, such as its concierge level of claims service available at service centers located in major metropolitan areas throughout the United States.
Progressive companies offer consumers choices in how to shop for, buy and manage their auto insurance policies. Progressive offers its products, including personal and commercial auto, motorcycle, boat and recreational vehicle insurance, through more than 30,000 independent insurance agencies throughout the U.S. and online and by phone directly from the Company. Private passenger auto products and prices are different when purchased directly from Progressive or through independent agencies. To find an agent or to get a quote, go to http://www.progressive.com.
The Common Shares of The Progressive Corporation, the Mayfield Village, Ohio-based holding company, are publicly traded at (NYSE:PGR).