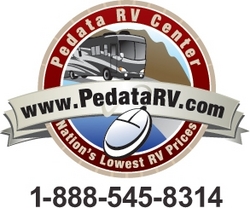 It makes sense to us
Bellingham, WA (Vocus) September 2, 2009
The National Park Service's 'fee-free weekends' made motorhome travel even more affordable. For the 63% of RVers who claim visiting National Parks is top on their list of travel stops, their summer fun helped save even more money and most likely contributed to the rise in RV rentals this summer. This winter, it looks like RVers will be hitting their RVs once again to visit families and take vacations.
A recent Good Sam Clubs Member Survey showed 71% of RVers will not let the economy interfere with their plans to travel over the holidays. 81% of those said they will travel the same amount or more than the previous year. "We've been seeing the economy start to come around and RVers are confirming that," says Clint Ethington of Pedata RV Center.
While RVing is a more cost effective way to travel than paying for airfare and hotels, RVers aren't cutting costs on decoration. Over a third of RVers hang lights, put up trees and turn their RVs into a moving holiday. Having the comforts of home while traveling make Christmas feel special no matter where you are.
"It makes sense to us," says Ethington. "RVers love their lifestyle. Not only does RVing become part of who they are, but being an economic way to travel, it's not something RVers are willing to give up easily."
For More Information:
For more information on Pedata RV Center or current trends in the RV industry contact Clint Ethington, General Manager, at: 1-888-545-8314 or 520-807-0900. Or visit Pedata RV Center online at http://www.pedatarv.com.
# # #