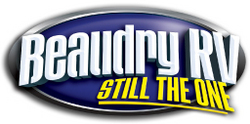 A gift isn't about being the most expensive or the most extravagant
Phoenix, AZ (Vocus) July 13, 2010
Beaudry RV Company deals with RV enthusiasts day in and day out. It's their business. With baby boomers becoming the largest segment of the population to explore the virtues of RVing, many often wonder, what do you get someone who has everything – a home, an RV and a lot of time to enjoy it. The answer is RV art. It's the perfect way for the RV enthusiast to call to mind RV adventures as they relax at home or at the summer cottage and inspire them to get back out on the road again.
Beaudry RV Company has compiled their top five picks for art gifts for RV enthusiasts:
1. Vintage Trailer Art by Paige Bridges: Bridges whimsical take on the RV life include glimpses of another era that embodies the innocence and beauty of RV Travel. From her 'Little Red Camper,' to seasonal camping images in some of the most popular vacation spots for RV enthusiasts, Bridges captures the heart of the RV lifestyle. Images are appropriate for all ages.
2. Douglas Keister's Mobile Mansions: This book takes RV enthusiasts back to the roots of RVing. The legend of the wandering spirit is captured through photography and text. From gypsies to mobile churches, this book is a testament to the joy that has kept RVing alive for 100 years.
3. RV Jewelry: For women and girls who love keeping mementos of their journeys, an RV charm is a great way to record the incredible explorations they have had.
4. Fine Art Photography: Fine art photography depicting images of places the RV enthusiast has visited. Think Ansel Adams and Galen Rowell.
5. RV Birdfeeder: Decorate the backyard with RV styled birdhouses and bring back memories of camping in the great wide open.
RV Art Gallery offers a wide selection of RV gifts and merchandise. "A gift isn't about being the most expensive or the most extravagant," says Scott Beaudry of Beaudry RV Company. "RV gifts are more than something to hang on a wall or put on a coffee table, they evoke memories and conversations about adventures that have already been had or may happen in the future.
Beaudry RV Company has been a leader in the RV Industry for over 40 years. Their customer service, parts department and summer events set them apart from other RV companies. They carry an extensive selection of Class A, Class B and Class C RVs.
For more information on new and used RVs and Beaudry RV Company or current trends in the industry contact:
Scott Beaudry
Company: Beaudry RV Company
http://www.BeaudryRv.com
Phone: 520-239-5054
###