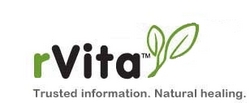 With today's beta release, rVita is leveraging Web 2.0 by bringing the power of mashups, user generated content, and community to integrative medicine to provide the quickest path to therapies with the highest chance of success
Santa Clara, CA (PRWEB) May 13, 2008
What do Steve Young, Madonna, Sheryl Crow, Sir Paul McCartney and 71 million adult Americans have in common? The answer -- they are turning to integrative medicine in record numbers (at a cost of $44 billion dollars a year) for help with everything from allergies and insomnia to chronic pain and adjunctive care for cancer. Yet, most Americans cannot easily separate science from snake oil when evaluating alternative therapies – making them susceptible to "trial and error" and scientifically unsupported claims. rVita today unveiled Health 2.0's first integrative medicine community – designed to give users quick and easy access to tried and true therapies.
"With today's beta release, rVita is leveraging Web 2.0 by bringing the power of mashups, user generated content, and community to integrative medicine to provide the quickest path to therapies with the highest chance of success" said Niteen Bhat, rVita's CEO and founder. The site's key features include reputable content about integrative therapies, a trusted practitioner network, and valuable peer-to-peer and expert feedback about what remedies really work. Armed with these powerful tools, consumers can effectively compare treatments and select the best ones for their condition. Bhat adds "putting consumers in charge of their health is a primary tenet of Health 2.0. We are proud to bring the Health 2.0 revolution to integrative medicine."
With the mainstreaming of alternative therapies, how do lay people separate science from snake oil? Why spend endless hours surfing the web to research the most effective therapies for your needs and still feel uncertain? Just as consumers have immediate access to buying guides, expert reviews, user suggestions, and specifications when buying a digital camera online, why not guide people to the best integrative therapies using the same concept? With its team of integrative medical doctors paving the way, rVita does just that.
How does it work? To research the effectiveness of different remedies, users simply execute a search on rVita's homepage. There they'll find a basic overview of the cause and symptoms of their condition as well as rVita's one-of-a-kind, evidence table compiled using scientific data derived from Natural Standard, which is widely recognized as a leading resource for integrative medicine. In addition, users get rVita's top recommended treatments based on the experience of the site's medical advisers and consumers, expert reviews, blog posts, articles, links to trusted practitioners, and breaking news when available – all in one place!
rVita boasts both a wealth of information and plenty of surprises on its easy-to-navigate site. For one, contrary to conventional wisdom, mega doses of Zinc or Vitamin C aren't the best remedy for a common cold, but there is good evidence that nasal irrigation and chamomile will do the trick. And, though few of us have heard of an herb called bromelain, it might be one of the most effective treatments for allergies. Can acupuncture really help cure infertility, is there a good substitute for hormone therapy for menopausal symptoms, and can one truly alleviate chronic pain without medication? Visit http://www.rVita.com to find answers to these questions and more.
"When it comes to integrative and complementary and alternative medical (ICAM) therapies, the patient can be overwhelmed with a confusing array of options and spend hours scrolling the web with little success," said Dr. Chen, Chief Medical Advisor to rVita.com. "rVita solves this problem by providing a one stop shop to allow patients to make 'side-by-side comparisons' of ICAM therapies, connect to trusted providers, and share their experiences with others. This makes rVita the first stop for patients wanting to delve deeper into ICAM and their healing."
Adds Natural Standard (http://www.naturalstandard.com) founder Dr. Catherine Ulbright, "We are pleased to collaborate in offering high-quality evidence-based integrative medicine information to help the public make well educated decisions. We rely on trustworthy consumer information portals to help disseminate our research results beyond the professional audience so that everybody can benefit. Thank you rVita."
About rVita:
rVita (http://www.rvita.com) was created by a passionate community of ICAM proponents and practitioners who are dedicated to empowering consumers with trusted information and resources. Completely free to consumers, rVita was started by internet veteran Niteen Bhat whose past company involvement include excite@Home, Jamcracker, and Merced Systems; Chief Medical Advisor, Dr. Steven Chen, a Bravewell Fellow at the UCSF Osher Center for Integrative Medicine and family medicine doctor at Asian Health Services; and medical content contributor Dr. Shashwati S. Kale, a family medicine doctor and preceptor at Stanford University School of Medicine-Foothill College Primary Care Associate Program. rVita is funded by Svapas Innovations (http://www.svapas.com), a multi disciplinary incubator founded by Dr. K.B. Chandrasekhar, which has offices in Santa Clara, California and Chennai, India.
Contact: Jennifer Spoerri
v. 415.563.2363
m. 415.577.0171
jennifer@rvita.com
# # #