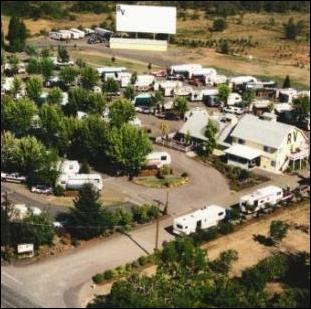 I think they just decided to leave it standing as a conversation piece. I'm glad they did.
Sutherlin, OR (PRWEB) April 20, 2007
Thirty years ago on a Saturday night in Southern Oregon teenagers, parents, and families waited eagerly for the sun to set so the drive-in movie could finally begin. Back then the Cloverleaf Drive-In, one of three drive-in's in Douglas County, Oregon, was a hotspot for movie goers. Today even though they are little bit older and have traveled a little bit further the movie goers are back, popcorn in hand ready for the show to start, the only change, today they are sitting outside of their RV.
Guests of the newly renovated http://www.hiwayhaven.com (Hi-Way Haven RV Park) get to step back in time and enjoy an old fashioned drive-in movie experience. To the delight of nostalgic baby boomers, who make up the vast majority of RV owners in the United States, the idea of marrying a drive-in movie theater with an RV Park has been an instant hit.
"We came to the Cloverleaf drive-in when we were teenagers," Dave Moore, a recent visitor proudly announced while giving his wife Donna a squeeze "It's fun to stay here and still be able to watch movies on the big screen!"
Real estate investor .http://www.luxuryhomecouncil.com/about/management.php (Jim Remley) purchased the 102 site http://www.hiwayhaven.com (Hi-Way Haven RV Park) in January of 2006 and within weeks of opening saw a huge opportunity. "I came to this Drive-In as a kid myself so re-opening the drive-in was just such a natural, I couldn't believe no one had done it sooner."
The http://www.hiwayhaven.com (Hi-Way Haven RV Park) built in 1986 was constructed on the site of the former Cloverleaf Drive-In. The screen a 53 foot tall steel behemoth was left standing at the far edge of the park. "I think it's the same screen that has been here since the late 1950's," said Remley "I think they just decided to leave it standing as a conversation piece. I'm glad they did."
Using a 10,000 lumen Panasonic projector, an FM transmitter, and a Sony DVD player Remley lights up the screen almost every Saturday night featuring classic movies like the Pink Panther, Flight of the Phoenix, and Butch Cassidy and the Sundance Kid.
"I'm telling there is absolutely nothing like it," gushed a recent guest. "My grandkids absolutely loved the experience. Where else can you see a drive-in movie…plus they gave us free popcorn! We could have stayed at an Indian casino down the road but who wants to sit at a slot machine when you can have front row seats at a drive-in movie theater. This is real entertainment!"
As long as they have an FM radio guests can choose to watch from the comfort of the RV, park their car in front of the screen, or spread out on a blanket. There is no extra charge for guests of the park to enjoy the movie.
"This is a family environment, with family movies. We want people to be comfortable, have a good time, and enjoy a great movie. To be honest I think the picture quality is actually better then the old drive-in used to be," adds Remley.
In addition to drive-in movies the state of the art destination RV resort offers every RV guest free high speed wireless internet access, on-site propane, 24 hour laundry and showers, a fully stocked store, a clubhouse, large pet areas, and pull-through parking.
"This is the place to bring your RV club," adds Mari, the park manager "In addition to being a first class destination resort every club has the opportunity to choose their own movie to watch on the big screen!"
According to a study done by the http://www.rvia.org (Recreational Vehicle Industry Association), nearly one in 12 U.S. vehicle-owning households (approximately 7 million) now owns an RV. That number is expected to grow to 8 million households by 2010 as more baby boomers enter their prime RV-buying years. That's an increase of 15 percent between 2001 and 2010, compared to overall U.S. household growth of only 10 percent during the same period. Among all U.S. households, one in six plan to purchase an RV in the future.
The http://www.hiwayhaven.com (Hi-Way Haven RV Park) is located at 609 Fort McKay Rd, in Sutherlin, OR. The park offers daily, weekly, and monthly rates. For more information call 1-800-552-5699, visit http://www.hiwayhaven.com, or email jim @ properformer.com.
###