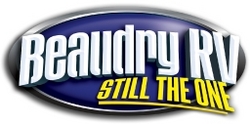 We're proud to be part of a lifestyle that has affected so many individuals in a positive way
Tucson, AZ (Vocus) March 4, 2010
Beaudry RV Company looks at a few of the reasons behind the recovery of the RV Industry.
Dealers at the latest expo in Edmonton, Alberta saw sales happen from the minute the doors opened. The 30th annual RV show was the busiest in history with sales doubling those from last year, reports RVBusiness News. Thirty seems to be the magic number as Dr. Richard Curtin predicted in the spring 2010 issue of RV Road signs, that 2010 will see a 30% rise over 2009's year end sales.
Every indicator points to a recovery and there are several factors playing into consumers decisions to begin spending again. The job market is turning around, but not quickly enough to be the sole cause of the numbers reported across both the US and Canada.
Newer models of RVs are also a factor. Features such as outdoor kitchens are receiving a lot of interest. Back-to-the-basics pop-up campers are getting renewed attention from minimalist campers looking to revert back to a simpler way of life. Green and eco friendly models that include solar panels and fuel efficient models are helping consumers who previously thought of RVs as pollution machines to reconsider their outlook. Also numerous studies have found RV vacations have less of a carbon footprint than traditional plane and hotel vacations.
As consumer opinions about RVs change, people are rejecting the old notions that RVs are only for retirees. The government's recent decision to support the RV industry by confirming June 2010 as the official RV Centennial Celebration month illustrates the impact the RVing lifestyle has made on the Americans.
"We're proud to be part of a lifestyle that has affected so many individuals in a positive way," says Thom Sylvester, CEO of Beaudry RV Company. "All the positive press this year makes us confident the RV industry will be here for another 100 years."
For more information on RVs for sale, Beaudry RV Company or current trends in the industry contact:
Thomas P. Sylvester
Company: Beaudry RV Company
http://www.BeaudryRv.com
Phone: 520-239-5054
# # #