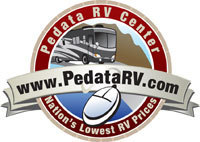 Phoenix, AZ (Vocus) April 23, 2010
Pedata RV Center sees more cash buyers. The approximate percentage of cash buyers has increased drastically. Approximately 50% off all buyers in 2010 are buying recreational vehicles with cash. These numbers are drastic change compared to 5 years ago. 5 years ago cash buyers accounted for approximately 10% of total buyers.
Gerard Pedata of Pedata RV Center suggested, "Buyers are coming in with cash buying all types of RVs…Class A, Class B, Class C, fifth wheels, travel trailers. The demand for travel trailers in particular has increased. Pedata has quadrupled the travel trailer inventory in response."
The recession generated an enormous amount of buying caution amongst consumers. The recovery has led to a general decrease in the amount of caution amongst consumers, but the most are still wary of large purchases. Credit availability for large purchases is still limited in comparison to years past.
Cautious consumers are spending cash on RV for several reasons:
1. The recovery has consumers considering the economy optimistically for the first time since the recession began.
2. Consumers are looking to add extras back into their lives that were cut due to financial restraints. One of the most commonly cut "extras" is vacations. Recreational vehicles are a good option for consumers looking to add vacations back into their regular schedules without drastic expenditure.
3. Consumers are finding themselves more capable of saving for large purchases after strict budgeting in response to the drastic economic downturn.
Pedata RV Center sees an increase in snowbird business every winter, but has noticed a drastic increase in the number of snowbirds filtering through the Valley this winter in comparison to the last few years. Pedata RV Center sells RVs with their full inventory available for viewing online 24 hours a day (Class A, Class C, Class B, Fifth Wheel, etc). They also provide a wide variety of industry specific information to ensure that consumers in the market for an RV are aware of the various options and features available in the industry.
For more information on Pedata RV Center, or current trends in the RV industry:
Contact:
Gerard Pedata
Pedata RV Center
http://www.PedataRVCenter.com
Phone: 1-888-545-8314 or 520-807-0900
###