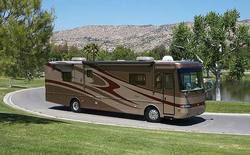 I have limited number vacation days each year. It doesn't make financial sense for me to purchase a $250,000 luxury motorcoach and let sit idle for 48 weeks of each year
San Diego, CA (PRWEB) April 2, 2009
As all of us wait for the US economy to recover, families are still looking for ways to have fun and to enjoy relaxing vacations together, while still adhering to their budget. RVing, a longtime favorite pastime in the U.S., has typically been considered a low cost option for families and retirees looking for an adventure, but that has changed. The RV industry has seen a downward spiral as consumers see less and less value in purchasing their own RV, knowing it will sit idle for most of the year. For many families, the best solution has come in the form of fractional RV ownership from CoachShare.
The concept of fractional ownership is simple, multiple families each own a share in an RV and divide the use and costs associated with it. For decades, this form of ownership has been extremely popular with private aircraft, vacation homes and yachts. Now, CoachShare has become an industry leader in fractional ownership, by bringing that same concept to the luxury RV industry.
"I have limited number vacation days each year. It doesn't make financial sense for me to purchase a $250,000 luxury motorcoach and let sit idle for 48 weeks of each year" says Tai Quan, a high tech executive and a CoachShare customer from San Jose, CA. "Fractional ownership not only saves me money, it also saves me time. CoachShare takes care of both the pre-trip delivery and the post-trip pickup. I don't have to bothered with the time consuming chores that full time RV owners have to deal with. CoachShare handles it all!
According to the University of Michigan, most traditional owners only use their RV 21 days each year, but they pay for it year around. "Consumers are realizing that it doesn't make sense anymore to buy an RV and use it a few weeks a year, especially in this economy" says James Palmer, President and CEO of CoachShare. The cost is a major factor for buying into fractional ownership, but RVers also complain about the time it takes to manage, clean, maintain, repair, and move around an RV when they're the sole owner.
People interested in fractional ownership with CoachShare simply buy the amount of time they need in an RV each year, either 2, 5, or 11 weeks. Each owner pays their fraction of the purchase price to CoachShare, and also receives 2 days of complimentary driver's training. CoachShare then manages the RV for the owner group, everything from cleaning inside and out and routine maintenance, to securely storing the coach and taking it in for repairs when needed. CoachShare can even deliver the RV to your house when you want to use it, and pick it up when you are done. All of this saves each owner tens of thousands of dollars, as well as an immense amount of time and hassle.
The state of our economy has not lessened the desire of families to spend time together with an RV vacation. It just has changed the way that they should do it. CoachShare's fractional ownership program gives them an ownership option that just makes financial and fundamental sense.
###