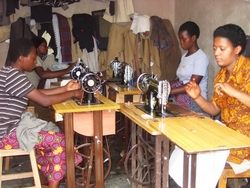 CHF health programs are non-clinical; we are focused on social services promoting healthy living
Silver Spring, MD (PRWEB) August 11, 2009 -
Globally 33.2 million people live with HIV or AIDS. In just the past year, the HIV/AIDS epidemic in Africa has claimed the lives of an estimated 1.5 million people, leaving more than 11 million children orphaned by the disease.* In Rwanda, the spread of HIV/AIDS and the lingering effects of the 1994 genocide have forced many children to take on the role of their deceased parents, creating a significant number of child-headed households, who typically lack adequate access to education, employment and health resources.
CHF International (CHF), the Silver Spring, MD based international development and humanitarian assistance organization, is working to educate and sustain this vulnerable population through an integrated approach to health programming. CHF recognizes that good health improves productivity and contributes to economic growth, therefore, increasing resilience against the societal effects of HIV/AIDS.
"CHF health programs are non-clinical; we are focused on social services promoting healthy living," says Anne Smith, CHF's Country Director in Rwanda. "Co-ops and vocational training bring together those affected by a health crisis to create economic stability by building a venture everyone can gain support from. Children tasked with raising siblings are facing an extremely challenging situation. These programs give them the ability to generate an income, allowing them to send younger siblings to school and provide healthy meals - basic needs that are so important."
In Rwanda, CHF's USAID/PEPFAR-funded program called Community HIV/AIDS Mobilization Program (CHAMP) aims to build the economic capacity of child-headed households through entrepreneurial opportunities. The most vulnerable young adults are selected by community members based on the youths' lack of housing, food security and funds to send their younger siblings to school. The selected young adults are enrolled in local vocational training centers, which provide a progressive entrepreneurship education. Over a period of nine months, basic business skill development and hands-on entrepreneurial experience is gained.
"I didn't get the chance to continue my formal studies because of the huge responsibility of taking care of my five siblings," said 19-year-old Monique, a graduate of the program. "But when the opportunity of studying in a vocational training center appeared, I seized it to enable me [to] get a tangible activity to rely on and generate income to continually support my siblings to a better future."
A member of the most recent group to graduate, Monique and her peers gained tailoring skills and learned how to budget a small business. As part of the program, CHF provided students with materials to start a tailoring business, including sewing machines, scissors, stools, tables, meter tape, blankets and an iron. Monique's group has already begun to legalize their cooperative.
"I'm proud of attaining such a life skill and also to belong to a cooperative because I could not easily get clients even after my graduation if I was working alone. Together, we support each other when one of us has problems at home, we focus on building our savings together, and attracting more clients. We have recently started receiving orders for school uniforms. That's amazing!" Monique said.
In its work to counteract the effects of a health crisis, CHF partners with local organizations, governments and health structures; the CHAMP program is supported in part by CHF partner, the African Evangelistic Enterprise (AEE). The CHAMP program has provided for over 1,000 child-headed households, just like Monique's, to receive vocational training and in-kind donations. In addition to vocational training, over the course of the four-year CHAMP program, more than 43,000 orphans and vulnerable children have received health and nutrition education, clinical services, and school supplies and uniforms.
The successes of CHF's work in Rwanda speak for themselves: Monique's tailoring business has expanded to be able to employ one of her siblings, which has increased the revenue generated for the family. With the increased revenue, Monique bought a small plot of land and now grows fresh vegetables to feed her family. The home-grown fresh vegetables increase Monique's ability to maintain a positive diet and cook healthy meals for her siblings.
ABOUT CHF INTERNATIONAL
CHF International is an international development and humanitarian assistance organization, currently working in more than 30 countries around the world. The organization's mission is to be a catalyst for long-lasting positive change in low- and moderate-income communities around the world, helping them to improve their social, economic and environmental conditions. CHF International programs are community-led initiatives designed to build a better world. For more information, visit http://www.chfinternational.org.
###