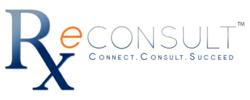 I'm enthusiastic about the site's new design and broad array of resources. I invite you to check it out, create an account, and connect.
Mount Olive, New Jersey (PRWEB) November 27, 2012
Re-imagined and redesigned RxEconsult healthcare social network website is now available. Healthcare professionals and businesses share their knowledge and increase their visibility by publishing articles, posting videos, participating in discussions, and networking on RxEconsult. Articles published on RxEconsult are indexed by search engines. Activities on RxEconsult lead to healthcare jobs and other opportunities.
With the recent release of version 2.0 RxEconsult moved from idea to a fully developed and unique professional healthcare network. Version 1.0 was launched last year. The site was redesigned to drive visitor conversion, improve functionality, and increase conversation, and sharing of knowledge. Changes were based on comments from members and how the site was being used. The home page, profile pages, articles, discussion, and job posting sections were vastly improved. Site security and privacy features were also improved.
The rationale for developing RxEconsult has not changed. According to Dr. Ogbru, CEO and Founder, healthcare businesses and professionals need a healthcare community where they can network, collaborate, share knowledge, promote their skills and experience, and find healthcare jobs or other opportunities. Moreover, the business of healthcare is complex, has many players, and the landscape is changing. A community where all healthcare people can discuss issues, learn, and move healthcare forward is beneficial.
RxEconsult compliments other professional networks such as Linkedin. It is a vast realm of ever-expanding interactions where members can:
Share their knowledge
Influence healthcare and get noticed
Connect with employers or employees
Find mentors and vendors
Build a profile and expand their network
RxEconsult is a community of opportunity for healthcare providers, consultants, scientists, or those involved with the business of healthcare. RxEconsult is free and it is the fastest growing online healthcare network of its kind. The new platform is receiving positive comments and is generating strong interest within the healthcare community.
About RxEconsult Healthcare Network
RxEconsult (http://www.rxeconsult.com) is a unique professional healthcare social network. Healthcare companies and professionals, and the businesses that support them use RxEconsult to showcase their expertise and experience and find healthcare jobs and other opportunities. RxEconsult is a fully functional web 2.0 platform where members share knowledge through articles, videos, discussions, and other content. They can invite contacts, interact and build their network. RxEconsult helps businesses and professionals in health related fields succeed.