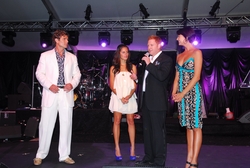 If you are talking about energy, commitment, passion, and generosity, as well as a desire to make the world a better place, then you must be talking about Ryan
Los Angeles, CA (PRWEB) February 11, 2009 -
In honor of Best Buddies' 20th Anniversary, Relativity Media, LLC and its CEO Ryan Kavanaugh heeded the call to help those in need. The vibrant organization, founded in 1989 by current Best Buddies Chairman, Anthony Kennedy Shriver, to enhance the lives of people with intellectual disabilities by providing opportunities for one-to-one friendships and integrated employment, received generous donations from the exec, who has been an outspoken supporter of the group for several years.
Ryan Kavanaugh donated a role in one of his upcoming films to the recent Miami Gala auction, and arranged a partnership between Best Buddies and the Capri Hollywood International Film Festival to help raise support and funds to establish Best Buddies programs in Italy. Beyond monetary support, Mr. Kavanaugh also volunteers his time on behalf of Best Buddies, as a Buddy to a young man with special needs in the Los Angeles area. Additionally, Kavanaugh employs two individuals with intellectual disabilities at Relativity Media, and uses his connections to encourage others in the film industry to support Best Buddies.
"If you are talking about energy, commitment, passion, and generosity, as well as a desire to make the world a better place, then you must be talking about Ryan," said Shriver. "Best Buddies is lucky to have a friend who puts his money and his time at the center of his life -- not for himself, but for others. The partnership Ryan created with the Capri Hollywood International Film Festival will help allow Best Buddies to open an office in Rome and serve thousands of new volunteers committed to enhancing the lives of people with intellectual disabilities."
Kavanaugh also purchased one of the most outrageous items ever auctioned off at a Best Buddies event-- one of Anthony K. Shriver's shoes. At the organization's Miami Gala Kavanaugh, walked up on the stage during the auction and surprised the room when he grabbed the mike and started bidding on Shriver's shoes. He became the proud recipient of one golden Dolce & Gabbana shoe, auctioned right off Shriver's foot, with a winning bid of $50,000.
"Best Buddies is truly a remarkable organization. Their work has bettered the lives of thousands over the past twenty years," said Kavanaugh. "It is the least I can do to help an organization that has changed the lives of so many throughout the years. Anthony's work and service has positively changed the way society greets those with disabilities."
About Best Buddies International
Founded in 1989 by Anthony Kennedy Shriver, Best Buddies is a vibrant, international organization that has grown from one original chapter to more than 1,400 middle school, high school, and college campuses across the country and internationally. Best Buddies is now active in each of the 50 United States and operates accredited international programs in 42 countries. Our six formal programs - Best Buddies Middle Schools, High Schools, Colleges, Citizens, e-Buddies and Jobs - positively impact more than 400,000 individuals with and without intellectual disabilities, as well as their respective network of family, friends, and employers. As a result of their involvement with Best Buddies, people with intellectual disabilities secure rewarding jobs, live on their own, and make lifelong friendships. Find out more at http://www.bestbuddies.org.
About Relativity Media
Led by Chief Executive Officer Ryan Kavanaugh, Relativity Media, LLC ("RML") is a media and entertainment company which focuses on creating, financing and distributing first class, studio quality entertainment content and intellectual property across multiple platforms, as well as making strategic partnerships with, and opportunistic investments in media and entertainment related companies and assets. In 2009, Relativity Media finalized its acquisition of Rogue Pictures from Universal.
The purchase of Rogue, a company that specializes in the production and distribution of lower-budget films, includes the label's entire library of films, as well as producing deals and more than 30 projects currently in development. Rogue has had particular success within the horror genre; the first Rogue release under Relativity's ownership was The Unborn, starring Gary Oldman, Cam Gigandet, and Idris Elba.
To date, Relativity has financed and/or produced over 60 films that have seen wide release and have accumulated $7.4 billion in worldwide box office revenue. Fifty of those films are "Top 10" box office releases from the past two years. Relativity's recent films include Step Brothers, Hancock, Wanted, Burn After Reading, Death Race, The House Bunny, Mamma Mia!, You Don't Mess with the Zohan, Pineapple Express, The Mummy: Tomb Of The Dragon Emperor, and Hellboy II: The Golden Army.
Relativity's 2008 slate included five of the top twelve highest-grossing films of the year; eighteen of the company's films have opened at #1 at the box office, and eighteen of RML's nineteen summer releases landed in the top three highest earners in their respective opening weekends. The past 34 releases have earned 29 Oscar® nominations, including nods for Frost/Nixon, Atonement, American Gangster, and 3:10 To Yuma. Twenty-nine of RML's films have each generated over $100 million in worldwide box office receipts. This past summer, Relativity Media, LLC announced an extensive international distribution program, which included thirteen output deals covering 100+ territories around the world. Find out more at http://www.relativitymediallc.com.
Press Contacts:
Heather Schatz
(305) 374-2233, ext. 207
HeatherSchatz (at) bestbuddies (dot) org
Mara Buxbaum
ID
323-822-4800
mbuxbaum (at) id-pr (dot) com
Lauren Burton
ID
212-344-0333
lburton (at) id-pr (dot) com
###