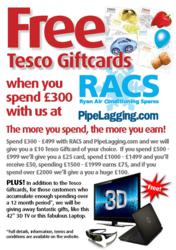 The more you spend, The more you earn!
Manchester, Lancashire (PRWEB UK) 20 August 2012
Ryan Air Conditioning Spares and Tesco have teamed up for a fantastic Tesco voucher scheme.
Ryan Air Conditioning Spares Ltd (RACS) was set up as an air conditioning and refrigeration parts wholesaler to meet demand for quality products available in one delivery, and in one place.
They offer hundreds of other spares and installation accessories including a new range of whisper quiet and slim-line low cost pump systems from Blue Diamond.
RACS also supply a great range of compact refrigerant recovery machines.
Ryan Air Conditioning Spares Ltd pride themselves on the speed of despatch and delivery.
Having collectively been in the air conditioning and refrigeration market for over 20 years they know how to keep their customers happy.
They only supply the best tested and tried products. Having all their stock in one location, they are able to despatch everything in one deliver. No more wasted time waiting for products to come from all corners of the country.
RACS is proud to announce their latest "the more you spend, the more you earn" offer in conjunction with Tesco.
This offer is valid from 1st August 2012 until 1st August 2013 and applies to purchases on-line and in store.
Spend £300 -£499 with RACS or PipeLagging.com and they will give you a £10 Tesco Gift card of your choice. If you spend £500 - £999 they will give you a £25 card. Spend £1000-£1499 and you'll receive a £50 card. Spend £1500 - £1999 earns you a £75 card, and if you spend over £2000 they will give you a £100 card.
In addition to the Tesco Gift cards, for those customers who accumulate enough spending over a 12 month period, they will be giving away fantastic gifts, such as a 42" 3D TV or a Laptop.
For further information visit: http://www.ryanairconspares.com or telephone: 0161 775 1190