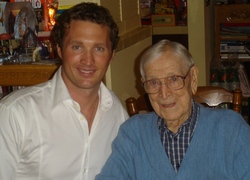 "Thanks to John Wooden I have my standard for success, and I also have an example of love that endures beyond death." - Ryan Blair
Los Angeles (PRWEB) June 11, 2010
Along with such UCLA players and NBA stars as Bill Walton and Kareem Abdul-Jabbar, the late John Wooden inspired countless others over the last five decades – many outside the realm of sports.
One was serial entrepreneur Ryan Blair, whom Coach Wooden called "one of the most innovative and enthusiastic young men I've met...always one step ahead of others, which means there is much we all can learn from him." Now Blair, who interviewed Wooden for his book Nothing to Lose: How to Find Your Passion, Fire Your Boss, and Become an Entrepreneur, is offering a free digital version of his book, which features interviews with Wooden, whose life lessons previously helped drive Blair to a successful career.
Beginning June 9th, and through June 18th, readers can access the free e-book, in its entirety, at http://www.ThanksWooden.com.
In 2008, Ryan Blair was fortunate to sit down with then 96-year-old John Wooden and discuss his success as a former UCLA basketball coach and the life lessons he taught his players, both on and off the court. For Nothing to Lose, Wooden offered his wisdom in three main areas: success, discipline, and team building.
Blair mulls the first subject in one of the book's passages. "At the time when I met Wooden I'd been searching for a personal definition of what it meant to be successful." He realized that one such definition could be found in the man that Wooden had become, a wise sage approached by "a long list of future leaders." After all, Wooden's "Pyramid of Success" philosophy had become legendary not only for guiding UCLA to ten NCAA Championships, but for inspiring others with such building blocks as hard work, alertness, poise, patience and teamwork.
"Thanks to John Wooden I have my standard for success, and I also have an example of love that endures beyond death," says Blair, recalling Wooden's long and devoted marriage to his wife Nellie, who died from cancer in 1985.
Nothing to Lose lays out a path toward financial independence and stresses the need to take that first step, "to go forward, to take that risk." For all those who have lost their jobs or are just tired of being a cog in the corporate machine, the book shows how using adversity to chase a passion and start a business can define "Generation E," the entrepreneurial generation. For more information on Ryan Blair and business tips visit http://www.NothingToLose.com.
# # #