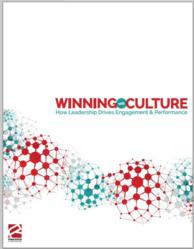 "the lasting benefits of a highly engaged workforce will also contribute toward an organization's performance and market position when economic conditions become more favorable." - Modern Survey research
Minneapolis, MN (PRWEB) April 16, 2013
In a post-recession corporate world, culture has become the new competitive advantage. A new white paper from Ryan Estis & Associates examines how leaders can follow proven best practices to create a positive culture and lead teams of engaged, confident, motivated employees.
The white paper, "Winning with Culture: How Leadership Drives Engagement & Performance," includes new research on leadership and employee engagement from Modern Survey and insight from leaders at companies with top-rated employee engagement: technology company Red Hat, agricultural credit group Farm Credit Services of America and Minneapolis health care system Park Nicollet Health Services.
While new research shows that confidence in leadership is a crucial driver of employee engagement, only 41% of surveyed employees report feeling confident in their organization's senior leadership. This white paper shares tips on improving employees' confidence in their leaders, along with ideas for boosting employees' sense of accomplishment. Additionally, the white paper explores how investing in leadership training and employee development can promote long-term engagement and company growth.
This Ryan Estis & Associates white paper is designed for senior-level leaders who are interested in improving their company's culture and overall performance, no matter what the external economic pressures. The Modern Survey research quoted in the paper shows that "the lasting benefits of a highly engaged workforce will also contribute toward an organization's performance and market position when economic conditions become more favorable."
Download "Winning with Culture: How Leadership Drives Engagement & Performance" at RyanEstis.com.
ABOUT RYAN ESTIS & ASSOCIATES
Ryan Estis & Associates is a training and development organization helping companies, leaders, sellers and individual contributors embrace change and achieve breakthrough performance in the new economy. The group offers keynotes, live classroom training and online learning that blends interaction, energy and actionable content designed to elevate performance. Curriculum design includes customization and emphasizes emerging trends in leadership, corporate culture, communication, collaboration, sales, brand experience, change and preparing to thrive in the ultra-competitive, hyperconnected business environment that has become the new normal. Ryan Estis & Associates' client roster includes category-leading employers such as AT&T, Mayo Clinic, Motorola, MasterCard, Prudential, the National Basketball Association and FCS America.