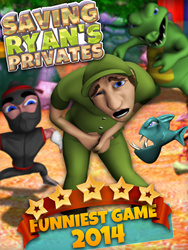 Voted Funniest game of 2014 by ReviewGamer.com
Nashville, TN (PRWEB) May 30, 2014
Ryan is the main character for this new game that is filled with action, humor and technical functionality. He is a goofy, uncoordinated character with animated facial expressions that light up when he is under attack. His enemies were carefully constructed by the animation team at BadApp Studios with the goal of keeping the users on their toes. There are eleven levels and eleven different enemies ranging from fat mini sumo wrestlers to tiny lightening quick ninjas. They will come from all directions, at all different speeds and they will all be aiming at Ryan's crotch. It is up to the user to swipe, slice, crush, and slingshot the enemies into the distance in order to keep them from destroying Ryans privates and causing him to double over in pain, shrieking in agony.
The user will collect multiple coins for each enemy they are able to fight off. Once each level has ended, the user will have the opportunity to spend the coins earned in the store on things like unlocking additional levels, extending gameplay for each level, and removing the ads from the game completely.
Everyplay by Unity has been integrated into the game for video sharing and commentary. This new technology allows the user to record audio or video commentary for the previously completed battle and send both the video or audio clip along with the actual game clip to friends or share on Facebook, Twitter, or Youtube. Also, Nextpeer multi player engine capability has been integrated to give the user the capability to play directly against friends, or to play any strangers along with chat capability and community sharing via Facebook, Twitter, or messaging.
Saving Ryans Privates is scheduled for release on the App Store on June 6th. It is designed for use on iPhone and iPad. It will be a free app with in app purchases.
For more information, you can visit ww.savingryansprivate.com or click the link.
BadApp Studios is based in Nashville, TN and has been committed to developing apps that are designed to preserve device memory and keep the native camera roll free of downloaded photos coming from other apps. BadApp Studios currently manages Snap Vault for Snapchat, Snap Base for Snapchat, and a one of a kind concept in the Shelfy family of apps (Shelfy for Snapchat and Shelfy for Instagram) all available on the App Store now.