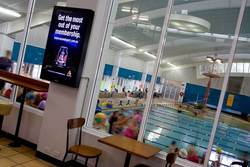 Ryarc is pleased Ultimate Media selected CampaignManager to power their digital out of home network. CampaignManager provides them a very scalable and reliable platform and we look forward to working with Ultimate and supporting them as they expand their digital signage network
Singapore, Singapore (PRWEB) January 16, 2009
Ryarc, a leading digital signage software provider, is pleased to announce that Ultimate Media has selected CampaignManager as their digital signage software platform. Ultimate Media launches into 2009 expecting to double their current network size in the next 12 months. At present, Ultimate operates approximately 300 screens in 250 venues in Australia, New Zealand and Singapore.
Ultimate Media Group operates digital signage networks in 2 key environments -- health club venues and bar/night clubs. Screens are all portrait orientation and feature 50% third party advertising and 50% venue promotional content. Programming utilises a simple 60 second cycle with 3 x 10 second advertising spots alternating with 3 x 10 second venue promotional spots.
Peter Cope, Director of Ultimate Media Group, stated, "After evaluating other major digital signage software solutions, Ultimate Media selected Ryarc based on its track record of success with other large out of home media companies; commitment to continual development and refinement and excellent service and training support".
Ryarc is working closely with Ultimate Media to grow the network and convert their traditional poster network to digital. Ultimate currently has nearly 10,000 static posters in the market and over the next 10 years, the company envisages that around half of these will become digital advertising sites. The balance of these locations will be phased out due to the increased inventory delivered by a digital network.
Ben Mooney, Sales and Marketing Manager of Ryarc, stated, "Ryarc is pleased Ultimate Media selected CampaignManager to power their digital out of home network. CampaignManager provides them a very scalable and reliable platform and we look forward to working with Ultimate and supporting them as they expand their digital signage network".
About Ryarc (http://www.ryarc.com)
Ryarc is a software company focusing on Digital Signage Software, distributed audio and playback technology. Ryarc's core product is CampaignManager, an end-to-end Digital Signage management platform which is used worldwide to operate and manage digital signage networks, large and small. Ryarc also allows you to expand your digital signage network to include an audio (in-store radio) platform as well as a corporate communications channel, all managed from a central location. Please feel free to contact Ryarc to ask any questions....Ryarc related or industry related we are here to help make it possible.
About Ultimate Media (http://www.ultimatemedia.com.au)
Ultimate Media has been Australia's leading indoor leisure media provider since 2001. With operations in six countries, Ultimate offers two channels for digital signage advertising (Health clubs and bars/night clubs) and a premium taxi advertising transit outdoor medium. Ultimate's clients include most leading national marketers who advertise across one or more of these media.
# # #