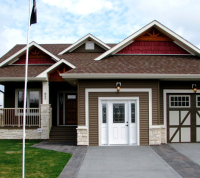 As the economy continues to improve we can expect to see prices in new homes rise accordingly. Many people recognize that if they are going to get into a new home, now is the best time to do so.
Red Deer, Alberta (PRWEB) April 15, 2010
Talk of rising interest rates and tighter restrictions on mortgage qualifications has caused an increase in real estate activity across Canada. The new Lamont Land Inc. community of Ryders Ridge, Sylvan Lake, Alberta, is one subdivision that is attracting plenty of consumer attention. With the ground breaking of Phase IV of this development now underway, and Phase V of the Master Plan being submitted to Town Council for approval, Ryders Ridge is well positioned to catch this latest wave of real estate activity and hundreds of new homeowners are moving into this beautiful residential subdivision.
"Home construction projects that were started earlier this year are nearing completion and interest in Ryders Ridge Sylvan Lake real estates has picked up significantly in the last few weeks," says Calgary-based Lamont Land's owner and project manager, John Gordon. "As the economy continues to improve we can expect to see prices in new homes rise accordingly. Many people recognize that if they are going to get into a new home, now is the best time to do so."
The timing couldn't be better for prospective new home buyers with an interest in living in a family-oriented community that boasts acres of green space and close proximity to a wide variety of lake-oriented recreational amenities. The seven homebuilders in Riders Ridge are pouring foundations for new homes on some of the 80 new lots in Phase IV of the development. Construction has also started on seven exciting new show homes on Riders Ridge Boulevard. They will be open for viewing in early August.
Gordon explains that Riders Ridge is now offering home buyers the opportunity to select their lot and then choose the builder. "There is a wide variety of floor plans and designs from Abbey Master Builder, Asset Builders, Candel Homes, Falcon Homes, Mason Martin Homes, Somerset Homes or Unique Elevations," he says. "But despite this flexibility, we recognize that some home buyers may still want other options. In order to meet their needs, we have recently changed our long-standing tradition of only allowing our featured builders in this community. Going forward, we have a select number of lots available for people who want to work with other builders – but all will still have to adhere to the same standard of quality specified in architectural guidelines."
In addition to the excitement surrounding the commencement of construction in Phase IV and the delivery of Phase V of Riders Ridge's Master Plan to Town Council, Gordon adds that Lamont Land was thrilled with the success of the Central Alberta's STARS 2010 Home Lottery.
More than 12,000 Red Deer and area home residents toured the 2,500-square-foot home constructed by Falcon Homes in Ryders Ridge. "This level of attendance represented about 15 per cent of Red Deer's total population," says Gordon. "Not surprisingly, with that many people taking an interest in the STARS project, tickets sold out quickly! We were very proud to be a part of this important fundraiser for the second consecutive year and look forward to the STARS Home Lottery draw on April 23. We can hardly wait to give the keys to this beautiful home to the lucky winner!"
Located just 16-kilometres west of Red Deer and only 90-minutes from both Calgary and Edmonton, the Town of Sylvan Lake is an excellent choice for a permanent family residence or a vacation get-away home.
ABOUT RYDERS RIDGE
Ryders Ridge has grown to be one of the most desirable real estate developments in the Sylvan Lake / Red Deer real estate market. Located adjacent to Four Season's Park and connected to the CPR pedestrian pathway, this new residential community boasts an abundance of green space, access to shopping and an existing elementary school. Located at the heart of this lake community; Ryders Ridge also offers easy access to a myriad of recreational activities, such as Sylvan Lake golf course, fishing and other outdoor pursuits.
To create Ryders Ridge, Lamont Land worked closely with the township, planners, builders and architects to design and build a community with a harmonious architectural theme and a genuine sense of community. They then hand-picked seven of Central Alberta's best builders – renowned for their individual commitment to quality and customer satisfaction.
Within a year of the sub-division's initial opening of Phase I, Ryders Ridge was presented with the 2008 SAM Award of Excellence for Best New Community in Central Alberta.
ABOUT LAMONT LAND & RYDERS RIDGE BUILDERS
With a fundamental respect for land and people, Lamont Land Inc. has been building great homes and neighborhoods in Alberta for the past 16 years. Lamont has built and created successful small town communities in places such as Sylvan Lake, Airdrie and Spruce Grove. Strong principles, attention to detail and ability to deliver make Lamont communities an ideal place to live.
###