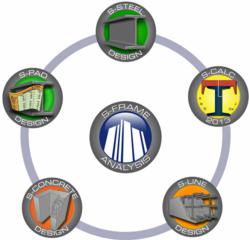 R11 represents one of the most extensive releases ever delivered by S-FRAME Software
Vancouver, BC (PRWEB) February 26, 2013
S-FRAME Software Inc., developer of structural engineering software solutions used by Structural and Civil Engineering Professionals worldwide, announced today the release of S-FRAME Structural Office R11. This release will be available to new and existing customers on March 22, 2013. This marks one of the most extensive releases ever delivered by S-FRAME Software. R11 contains significant updates and new functionality to the existing product line of S-FRAME Analysis, S-STEEL Design, S-PAD Design, S-CONCRETE Design, S-LINE Design & S-CALC.
Key features in Structural Office R11 include:

- S-FRAME Analysis & S-STEEL Design are integrated in one common GUI environment
- Brand new Revit and Tekla Structures links that feature improvements in all aspects of the bi-directional capabilities including persistence, objects transferred, user interface, section mapping, and much more.
- A brand new DXF link featuring 3D visualization, fast rendering, ability to select what to import, automatic S-FRAME model group folder creation, and much more.
- For virtually all practical situations, model size limitation has been removed
- New Analysis types: for Quasi-Static, Pushover and Nonlinear Buckling
- New Elastic/Plastic link beam element, four new nonlinear hysteresis materials and support for partial releases and base isolators
- Further performance improvements to our solver engine in the areas of parallel processing and eigenvalue extraction (for both speed and accuracy)
- Implementation of the co-rotational beam element and two new convergence methods for solving the most challenging nonlinear structural problems

S-STEEL Design supports steel design and code check for each stage in S-FRAME Analysis' new Staged Construction module. S-STEEL & S-PAD design support the Hong Kong SUOS11 design code and include the latest CISC and AISC databases.
S-CONCRETE Design supports concrete column design to Eurocode 2 – EN 1991-1-1-2004 and the ability to automatically perform code checking on a large number of columns, beams and shear walls in a batch mode.
S-CALC 2013 supports new section properties and shapes, multiple languages and menu customization, plus a brand new DXF link.
All products feature additional enhancements and are delivered with a new licensing system that offers users more flexibility and reliability.
Dr. Marinos Stylianou, CEO of S-FRAME commented about the R11 release, "R11 includes important new functionality and many enhancements designed to improve our client's user experience and to address their need to innovate and improve their productivity: full integration of analysis and steel design, addition of three new advanced analysis types, increased solver performance and accuracy, new nonlinear material models, an across the board new licensing system, two new BIM links, updates to several design codes and the addition of two new ones, ability to customize the programs based on language, and a host of other new features and enhancements."
About S-FRAME Software, Inc.
Since 1981, after introducing its first commercially available 2D analysis program, S-FRAME Software has led the industry in the development of easy-to-use, reliable, and innovative analysis and design software products trusted by structural and civil engineers worldwide working in a multitude of industries. S-FRAME's Structural Office is a structural model management environment that enables users to design robust structures regardless of geometric complexity, material types, loading conditions, nonlinear effects, and design-code requirements. S-FRAME's software products include: S-FRAME®, S-STEEL™, S-PAD™, S-CALC™, S-CONCRETE™, S-LINE™.