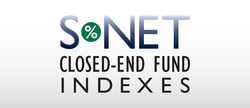 New York, NY (PRWEB) May 13, 2010
The S-Network Composite Closed-End Fund Index (TICKER: CEFX) Committee today announced three rule changes to the eligibility criteria for closed-end funds included in the Index, effective June 21, 2010.
Section IV(v) relating to the Premium" has been changed as follows: Closed-end funds whose shares have traded at average premiums of 20% (plus or minus the average premium/discount for all eligible constituents) or more to their net asset values for the ten business days prior to the last Friday of the month preceding the rebalancing date (the announcement date") shall be excluded from the index.
Section IV(vii) relating to the Expense Ratio Exclusion" has been updated as follows: To meet eligibility requirements, a closed-end fund must maintain a total expense ratio below a certain threshold. The threshold will vary depending upon prevailing interest rates. The reference threshold is 2% and is based on the 30-day LIBOR rate of .25%. The threshold will increase or decrease from this level by a factor of 30% of the difference between the reference LIBOR rate of .25% and the LIBOR rate on the record date.
Section IV(viii) relating to the Expense Ratio Buffer" has been updated to include the following: Once included in the index, a closed-end fund may exceed the eligibility threshold as defined in Section IV by up to 10% of the eligibility threshold. Any current index constituent that exceeds the eligibility threshold by more than 10% will be deleted from the index.
The S-Network Composite Closed-End Fund Index (TICKER: CEFX) is a fund index designed to serve
as a benchmark for closed-end funds listed in the US that principally engage in asset management processes seeking to produce taxable annual yield. The CEFX employs a modified net assets weighting methodology designed to assure accurate investment exposure across the various style segments that together comprise the taxable yield sector of the closed-end fund market.
Detailed information, including constituent data, rules and price information on the S-Network Composite Closed-End Fund Index is available at http://www.closedendfundindex.com. Data is also available through most vendors of financial data.
Index: S-Network Composite Closed-end Fund Index (USD) TICKER: CEFX
Contact:
Joseph LaCorte
S-Network Global Indexes
646-467-7927
http://www.closedendfundindex.com
# # #