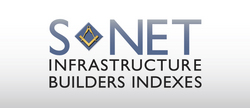 The statistical data points to a long-term trend where infrastructure projects related to water, transportation and power generation are no longer on the
New York (PRWEB) September 18, 2008
The S-Network Emerging Infrastructure Builders Index ℠ (Ticker: EIBI) has commenced real-time price dissemination.
The EIBI serves as an equity benchmark for companies engaged in the construction and maintenance of major infrastructure projects in emerging and middle-income markets. Says Joseph LaCorte, Chairman of the EIBI Index Committee, "There are two sides to infrastructure: the 'providers' and 'builders'. Providers make substantial up-front investment in infrastructure and realize long-term rewards. Builders realize their income up-front during the construction phase."
EIBI is the first and only infrastructure "builders" index currently published.
The EIBI comprises 66 stocks from around the world, including stocks based in key emerging markets and certain stocks domiciled in developed markets that do extensive infrastructure business in emerging and middle income markets. The EIBI is a capitalization-weighted index, adjusted for free float. It includes stocks in seven sectors: a) Construction & Engineering, b) Construction Machinery, c) Construction Materials, d) Diversified Metals & Mining, e) Heavy Electrical Equipment, f) Industrial Machinery, and g) Steel.
Data is available through most data vendors, including Bloomberg LLP and Reuters. The EIBI Index is published by S-Network Global Indexes, LLC and S&P Custom Indexes serves as its calculation agent.
A number of factors point to a potential boom in infrastructure development in emerging and middle-income markets. Says Richard Phillips, S-Network Senior Index Analyst, "Infrastructure requirements in the markets covered by this index are estimated to be in the range of USD 20 trillion over the next two decades years." Demand for infrastructure tends to be inelastic because of long-term trends such as urbanization, population growth, and globalization. Says Phillips, "A lack of sufficient modern infrastructure is already imposing significant strains on the global development process, especially in countries such as China, India, MENA and LATAM countries."
With the exception of companies in the Diversified Metals & Mining sector, all companies contained in the EIBI are categorized as being "principally" engaged in the business of infrastructure building. For the purposes of the EIBI, a principally engaged company must generate 50% or more of its revenues from infrastructure development, with emphasis on large-scale projects.
EIBI contains stocks selected from a universe of equity securities traded on approved stock exchanges that provide a "last closing price." The selection criteria include requirements for industry participation, primary exchange listing, minimum capitalization, minimum free-float, minimum price and minimum average daily trading volume.
S-Network relied heavily upon statistical data provided by various multilateral organizations, such as the World Bank, the OECD and the United Nations, to establish a logical framework for the index. Says LaCorte, "The statistical data points to a long-term trend where infrastructure projects related to water, transportation and power generation are no longer on the "wish" list in many countries, they are on the "must-do" list. Many governments see the benefits of investing in infrastructure in good times and bad. Infrastructure development creates jobs in the short term and improves productivity -- hence GDP -- over the long term. Until EIBI, there has been no way to measure the secular economic impact of fulfilling these urgent needs"
S-Network Global Indexes LLC is a publisher and developer of proprietary and custom indexes. Since its founding in 1997, S-Network has worked with many of the leading financial services firms in the world on index development, indexation and index-based products, such as ETFs, ETNs and structured products. S-Network currently publishes over twenty benchmark indexes that are licensed to asset managers and investment banks throughout the world. The EIBI has been licensed to Invesco/Powershares to serve as the underlying index for an ETF.
###