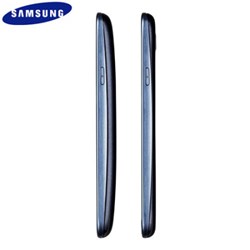 The 3000mAh Extended Battery Kit adds a whopping 900mAh of battery life to the Samsung Galaxy S3.
Birmingham, West Midlands (PRWEB UK) 28 February 2013
Hotly anticipated with Android users, the Genuine Samsung 3000mAh Extended Battery Kit for Galaxy S3 will be available from UK online mobile phone accessory retailer Mobile Fun beginning Friday.
Adding a whopping 900mAh to the battery life of the S3, the Genuine Samsung 3000mAh Extended Battery Kit for Galaxy S3 replaces the original back cover and battery of the smartphone. In return users get more talk time and more time to put the smartphone through its paces with daily use and app consumption.
The 3000mAh is slightly bigger than the stock battery that comes with the Galaxy S3; therefore the replacement back cover is provided to incorporate the larger battery without taking away from the overall look of the smartphone. This Samsung Galaxy S3 cover also helps to protect the battery from any damage caused by bumps, scrapes and scratches so it'll work for longer.
Ensuring that no functionality is lost from the S3, the Extended Battery Kit features a built-in NFC (Near Field Communication) chip; meaning that NFC accessories can still be used with the bigger battery. Now there's even more time to use and explore all the features the S3 has to offer.
As an official Samsung product, the perfect fit, functionality and the highest quality is assured with the 3000mAh Extended Battery Kit. The replacement cover contains all the cut-outs needed for the phone, such as the charging port and headphone jack meaning all these ports can still be accessed.
The Genuine Samsung 3000mAh Extended Battery Kit for Galaxy S3 is available in both blue and white from Mobile Fun starting Friday.
-ENDS-
About Mobile Fun
Birmingham based MobileFun.co.uk is the UK's biggest online retailer of mobile phone accessories, sim free phones, tablet accessories and e-reader accessories.
Mobile Fun has offices in the UK, USA, Germany, Spain and France and delivers products to over 50 countries worldwide.
Mobile Fun were recently named the 'Best Accessory Retailer' 2012 at the What Mobile Awards and won the title of Online Retailer of the Year' at the Mobile News Awards 2012 for the second year running.