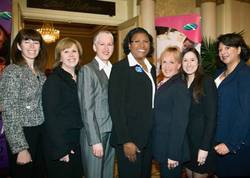 The greatest issue of concern in our society today is financial education
Chicago, IL (Vocus) May 29, 2008
S.USA Life Insurance Company, Inc., a leading financial services provider committed to the financial education of women nationwide, held its first Chicago Women's Financial Empowerment Roundtable, Tuesday, May 20, 2008. The event, held at the Palmer House Hilton, was open to women of all backgrounds and took place in a non-traditional, conversational and educational forum. An expert panel addressed topics related to women and the importance of financial planning and security.
"The information and messages were informative, powerful, and clear - you can take control of your financial life, build for your future, and realize your power. And, you must start today," said S.USA President and CEO Vikki Pryor.
Lindsay Tilchen Johnson, Vice President, Tilchen Corporation, stressed the importance of having a financial plan. "Feel empowered to take control of your finances and your career," said Tilchen Johnson. "And, remember, you don't have to be a millionaire to become a multi-millionaire." Attorney Deane Brown, partner with Beermann Swerdlove, LLP, reinforced Tilchen Johnson's point on the importance of having a financial plan. She touched on the sensitive topic of women distributing their wealth and possessions after death and urged every woman present to have a will drawn up immediately.
An Executive Vice President with Harris Bank, Emilia DiMenco spoke on the topic of money and banking. "The greatest issue of concern in our society today is financial education," said DiMenco. "You must seek the channels, the experts, and the information to educate yourself because education brings empowerment." She told the audience that they must develop a relationship with a banker, be informed, plan, and pursue promotions and services. She assured participants that in doing so they would learn to control their finances so that their finances don't control them.
With respect to the job market, Marian Carrington, Principal at executive search firm Carrington & Carrington, Ltd. encouraged audience participants to be proactive. "Contact potential employers, explore the market, and be prepared," said Carrington. "Be ready should you get the tap; have a plan, and consult an expert." Cristina Benitez, president of Lazos Latinos and author, Latinization…How Latino Culture is Transforming the U.S., talked of the challenges of starting a woman-owned business. Benitez spoke of the need to believe; in oneself and one's passion, and called for each woman participating to be authentic. Said Benitez, "You must use your top three resources if you are to succeed in starting your business. Every woman, because she is innate in having the distinction of being a woman, is her own top resource." She went on to say that it is imperative that women should find and affiliate themselves with a reputable network of executive women and take advantage of a women's development center.
Anne Ladky, executive director of Women Employed, challenged the audience to get involved in their communities and local and national governments. "We have solved issues that weren't even named 35 years ago; women are a force like never before, and we must make certain we are heard," said Ladky. "When asked for her final word Ladky said, "Do something; anything! Talk to people, vote and get your friends to vote."
The Roundtable committed to reconvene May 19, 2009 and is considering assembling a group of women leaders to lobby Washington on behalf of women regarding financial empowerment. In closing the panel made two conclusions. The financial advancement of women is a compelling topic which must be addressed, and women in the Chicago community can have an impact on and be the voice for women across the country.
About SBLI USA/S.USA
S.USA Life Insurance Company, Inc. is a subsidiary of SBLI USA Mutual Life Insurance Company, Inc. SBLI USA and its subsidiaries are licensed in 49 states, the District of Columbia, the U.S. Virgin Islands, and Puerto Rico. With more than $15.9 billion of insurance in force, $1.5 billion in assets, $129 million in surplus capital, 200 associates and over 300,000 policyholders, the company is committed to offering affordable, flexible and easy-to-access products through a variety of integrated channels, including direct mail, telemarketing, a bilingual Web site, licensed agents, and walk-in Customer Centers.
SBLI USA prides itself in its diverse workforce, which extends from the mailroom to the boardroom. The Company is comprised of 58% women with 48% in management roles and 37% in officer roles. Further, 45% of its Board of Directors is women.
SBLI USA Mutual Life Insurance Company, Inc. is the parent company to SBLI USA Holdings, Inc., which owns subsidiary companies S.USA Life Insurance Company, Inc., and SBLI USA Diversified Services Company, Inc. To learn more please visit http://www.sbliusa.com.
For more Information:
Sue Busby
312.777.2428
sbusby @ sbliusa.com
# # #