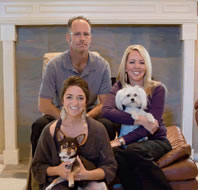 As a business owner and a neighbor, I strive to give my customers the best in energy efficiency, technology, installation and service - all at a fair price.
Pasedena, Texas (PRWEB) December 19, 2012
Mike Wright is the owner of Advanced Window Products (AWP) and has over 30 years of experience in the residential window replacement industry right here in the greater Houston area. His integrity is reflected in his work and service as well as that of his employees.
The reasons why the demand for his services has flourished consistently over the years is evident to SA4i and the continually growing list of extremely satisfied customers from the reviews and recommendations AWP customers have posted online. Vinyl replacement window reviews have multiple raving remarks on many websites regarding energy efficient window replacement, replacement windows in Houston (and the surrounding communities) and window replacement pricing.
For example, the highly regarded and well known Angie's List where AWP has been highly acclaimed since 2004 and is currently an Angie's List Super Service Award recipient.
Mike and his staff at AWP are a professional window replacement service involved in all aspects of replacement windows and doors, with a specialization (in the entire Metro Area of Houston) vinyl replacement windows and energy efficient window replacement – all starting with a free estimate. They provide a complete range of services new windows, types of windows and replacing windows; and, AWP is consistently reviewed as having very satisfying window prices.
AWP is comprised of professional installers who are clean, courteous and prompt with more than 100 years of combined installation experience. This company installs 100% of their own windows and they never use subcontractors.
AWP staff has an excellent reputation for not exerting any type of pressure sales tactics; rather for asking questions to determine needs, taking careful measurements, and engaging homeowners in discussions regarding the use of the particular windows or doors as well as options to determine the best products to fit your needs and your budget. That is why AWP's customers have become relentlessly loyal to this local Houston business that has shown loyalty to them.
For one example, just listen to this customer comment.
Further making AWP a cut above the rest is how they provide literature and/or samples of the products they recommend, a detailed quotation of the work proposed; including window type and brand name, and the names and phone numbers of customers who live in the area for references.
And, with Mike at the helm, AWP produces results that are reflected not only on Customer Lobby and Angie's List, but by additionally being a Better Business Bureau (BBB) Gold Star Award Winner for 11 consecutive years.
For further information, please contact Mike Wright at SA4i at 281-487-6333or visit the AWP website.
SA4i, also a local Houston business, is proud to be associated with Mike Wright and AWP.
Strategic Advisors for the Internet (SA4i) is an online marketing group representing Advanced Window Products as well as a wide variety of local, state, national and global clients. For further information, please contact SA4i at 281-661-8900 or visit the SA4i website.