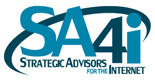 Any businesses wanting to know how effective their Internet Presence is and how SA4i can help them utilize Google Analytics to their full potential, can take SA4i's Internet Effectiveness Quotient Test."
Houston, texas (PRWEB) January 04, 2013
Strategic Advisors for the Internet (SA4i) utilizes many Google Analytics tools in many ways for many types of businesses. It is one of SA4i's specialty areas to help have the proper insight to customize a successful comprehensive Internet Presence Management (IPM) strategy for clients. IPM is SA4i's comprehensive and progressive approach to conducting business on the ever-changing landscape of the Internet, which is primarily driven by Google.
The keys to utilizing the Google Analytics tools include:

Properly installing the script onto the website
Setting up measurable goals so Google can gather and present the data in a meaningful way
Being able to interpret and assess the data
Being able to develop, implement, and monitor a strategic plan to improve results toward achieving the goals
Multi-Channel Funnels are one of the many tools that are part of Google Analytics. Introduced during 2012, this particular tool makes it possible for businesses to look at interactions between different digital media. It does so by streaming the data into a visual representation of funnels. This representation shows how and how well the different digital media work together for the business in the crucial areas of creating conversions and sales.
"Conversion" is a term that is used to reflect that a visitor to your website has done something the business wants them to do; for instance, visit a certain page, fill out a form with an email address or other demographic info, or make a purchase. These are statistics about customer behavior, one of the most important insights a business can have.
Businesses (local, national, and global) that want to know how effective their Internet Presence is and how SA4i can help them utilize Google Analytics to their full potential, can take SA4i's Internet Effectiveness Quotient Test.
Strategic Advisors for the Internet (SA4i) is a professional online consulting and marketing group headquartered in Houston, Texas. SA4i represents local, state, national and global clients; and, stays well informed of the latest internet advertising ideas, solutions and trends to maintain satisfied clients.
For further information about SA4i, Internet Presence Management, and Google Analytics, please contact SA4i at 281-661-8900 or visit the SA4i website.