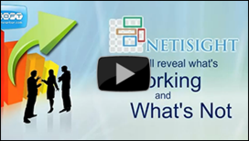 SA4i's unique combination of technology analysis tools made available through Netisight provides clients with many viable advanced and targeted analytics options.
Houston, Texas (PRWEB) December 21, 2012
Business owners and managers spend hefty amounts of money every day in America on advertising and marketing, both traditionally and digitally. Netisight helps analyze and determine how well the client's website and other digital media are working and how best to maximize its efficiency.
Ben Scardello and Scott DeLoach, President and Operations Director/CIO of SA4i have combined their experience of 40 plus years in the fields of business management, computer programming and internet marketing as well as traditional advertising. The Netisight suite of services includes: web traffic analytics, heat map tracking and consulting.
Heat Map technology generates graphical representations of relationships between elements. These elements can, for instance, be regions and objects place in an area of space displaying values using colors which often represent a theme associated with a particular geographic area.
Strategic Advisors for the Internet (SA4i) is a professional online marketing group headquartered in Houston, Texas that represents local, state, national and global clients.
For further information about the Netisight services and website development services of SA4i, please contact SA4i at 281-661-8900 or visit the SA4i website.