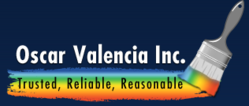 Residential and Commercial paint contractors always leaving the job better than we found it.
Houston, Texas (PRWEB) February 18, 2013
Oscar Valencia explained to SA4i that originally, his business began by doing both landscaping and painting. They served businesses as well as residents. Gradually, however, Oscar Valencia, Inc. evolved to serving customers on a more personal level and began focusing on doing residential and commercial painting.
Today, more than 30 years later, the Oscar Valencia team is comprised of very skillfully trained painters. Each painter has a certain area of expertise.
Oscar Valencia Inc. is based on the concept that every client deserves the best. Their dedication to this concept is put in action at the start of every job as no payment is required until the client is 100% satisfied. And, the Oscar Valencia Exclusive Customer Program further proves that this company takes action on the concept of giving clients the best (not just talking about it).
SA4i has had a professional relationship for several years with Oscar Valencia, Inc. working on various projects. SA4i is very pleased and honored to once again work with Mr. Valencia in developing a fresh website with an enhanced internet presence.
SA4i is a well-established strategic internet presence, advertising and advising firm representing an array of clients whom it helps to flourish in the digital arena.