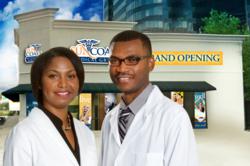 At SunCoast Medical, our primary care services go well beyond the traditional scope of family practices; and, we will make a positive difference in your life.
Houston, Texas (PRWEB) February 04, 2013
Obesity is of major concern for millions of people, including hundreds of thousands right here in the Greater Houston Metro area. Obesity, with its many far-reaching consequences, can lead to breast cancer and colon cancer (as well as other forms of cancer), diabetes, heart disease, hypertension, joint problems, and the general diminished health of vital organs. Apathy, depression, lethargy, mental health, and self-esteem issues also tend to manifest.
Onyi Agim, M.D., Anayo Mbadugha P.A. and the SunCoast Medical Group staff provide patients with premium weight loss services by treating obesity as a medical condition (just like high blood pressure or a high cholesterol level). They treat the causes and symptoms to assure positive and sustainable clinical results. SunCoast is comprised of highly qualified individuals who have received specialized training from the renowned Center for Medical Weight Loss, founded by weight loss expert Dr. Michael Kaplan.
SunCoast Medical Group is a proven leader. They have higher success in helping their patients lose weight, maintain the weight loss and turn their lives around other clinics, trendy weight loss programs, or random diet pills. This is so crucial because losing weight quickly for a short amount of time and then gaining it back is not a real solution.
Further, whether associated with weight loss and maintenance or associated with other medical concerns, the medical staff at SunCoast offer expert nutrition and dietary counseling because they know that proper eating habits are definitely one of the cornerstones of preventing illness and maintaining good health.
And, this family owned full-service medical clinic serves the community in a state-of-the-art facility highlighting multiple examination rooms and a procedure room that enables the convenient provision in-office minor surgery.
When someone in Houston and its surrounding communities are experiencing the pain and health risks associated with obesity, they need medical help. They need answers. They need direction. They need to be examined medically. They need a professional to listen to their circumstances and understand where they have been, where they are, and help them get to where they are going because people are overweight for varying reasons.
People are individuals and their weight loss treatment needs to be individualized. Weight loss treatment needs to be customized to be successful. This is a medical specialty Onyi Agim, M.D. and Anayo Mbadugha P.A.
For customized weight loss treatment from licensed medical professionals with a proven track record, people in and around Houston can turn to the professional medical expertise and weight loss services of SunCoast Medical Group.
SA4i (Strategic Advisors for the Internet) is an online marketing group specializing in internet presence management and represents a wide variety prestigious clients including SunCoast Medical Group.
Contact Information for SunCoast Medical Group:
http://www.suncoastmg.com/
7330 Southwest Freeway, Suite A, Houston, TX 77074
713.541.0095
Contact Information for SA4i:
http://www.sa4i.com
281.661.8900