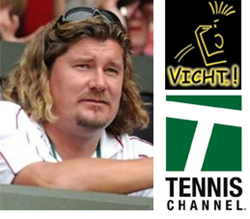 Houston, Texas (PRWEB) December 05, 2012
SA4i announces VICHT! as the new elite signature athletic program at the acclaimed Galleria Tennis and Athletic Club (GTAC) in Houston, Texas with the launch of one of the most effective, prestigious and technologically advanced individualized tennis training programs in the world: VICHT! Virtual Coaching for tennis.
Tennis players in any remote location in the world can now participate in and benefit from specialized tennis skills learning experiences from world class tennis professionals simply by having access to a computer with an internet connection as well as access to a video recording device.
International tennis champions at VICHT!, including Peter Lundgren and Niclas Kroon, are now available to work 1:1 with you to analyze your tennis game and skills as well as provide you with custom tennis lessons.
Don't miss VICHT!, Peter Lundgren and The GTAC being featured on The Tennis Channel Sunday 12.09.12 at 11:00 CST in their Tennis Channel Academy program.
Peter Lundgren coached Roger Federer to his first ever championship! Now, he and his team are ready to coach you. Would you like individual instruction from an accomplished world class tennis champion and professional tennis coach to help you prepare to play your best possible game?
Call VICHT! at 1-832-325-5100 or visit VICHT! Virtual Coaching on the internet to begin the process of improving your play by requesting a professional analysis of your current tennis game.