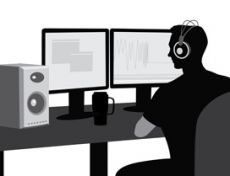 The dramatic growth in video use on the internet is not limited to YouTube. It is also increasing, in use and success, by leaps and bounds on websites, landing pages and social media.
Houston, Texas (PRWEB) December 20, 2012
Ben Scardello and Scott DeLoach, owners of SA4i have over 40 years of combined experience in the fields of computer programming, internet and traditional advertising, and business management. SA4i has been involved in producing videos for customers since it opened its doors for business in 2009.
The innovative video spokesperson services from SA4i includes over 60 professional spokespersons (actors and actresses) to choose from. Even the lowest priced option includes a professionally written script, 10 entrance options from which to choose (including a "click to view" option if it is preferred not to have the spokesperson appear immediately).
Adding such a powerful tool to the marketing efforts of promoting a website, increasing its traffic, and converting more visitors into customers has never been more cost efficient. SA4i offers a free video strategy development meeting with their staff who also have the capability of adding motion graphics and images with the video to enhancement the presentation.
A professional spokesperson can be auditioned on-line right now and be selected for an immediate demonstration on any website.
Strategic Advisors for the Internet (SA4i) is an online marketing group representing local, state, national and global clients.
For further information about their video spokesperson services as well as the full spectrum of other online marketing services offered including website development, please contact SA4i at 281-661-8900 or visit the SA4i website.