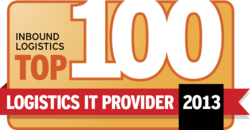 Best-in-class logistics IT helps today's business logistics managers boost supply chain performance and customer service while cutting overall logistics costs.
Atlanta, GA (PRWEB) April 30, 2013
Blue Ridge announced today that it has been selected by Inbound Logistics Magazine as a Top 100 Logistics IT Provider in 2013. For the second year in a row, Inbound Logistics recognized the Blue Ridge SaaS demand forecasting, replenishment, and analytics solutions for enabling both reductions in operating costs and improvements in customer service levels.
"Implementing the best logistics technology helps large companies expand markets and small companies level the playing field with larger competitors. Best-in-class logistics IT also helps today's business logistics managers boost supply chain performance and customer service while cutting overall logistics costs," stated Felicia Stratton, Editor of Inbound Logistics. "Editors selected Blue Ridge for its consistent ability to deliver innovative solutions empowering logistics and supply chain excellence for companies large and small."
Every April, Inbound Logistics editors recognize 100 logistics IT companies that support and enable logistics excellence. Drawn from a pool of more than 300 companies, using questionnaires, phone calls, personal interviews, and other research, Inbound Logistics selects the Top 100 Logistics IT Providers who are leading the way in 2013. Editors seek to match readers' fast-changing needs to the capabilities of those companies selected. All companies selected reflect leadership by answering Inbound Logistics readers' needs for simplicity, ROI, and efficient implementation.
Blue Ridge was honored to win the award for providing enterprises the demand-driven supply chain technology to achieve higher profits and better customer service. "The competition this year reflects a growing demand for innovative, cloud-based, supply-chain technology providers," stated Greg White, CEO of Blue Ridge. "We take great pride that our solutions are easy to implement, quick to produce bottom-line results, and provide a solid supply chain foundation for our customers from tens of millions to tens of billions in size."
About Blue Ridge
Blue Ridge leads the way in enterprise-class Software-as-a-Service supply chain solutions. Blue Ridge solutions and services turn inventory investments into cash flow and revenue generation opportunities. The company's robust cloud-based solutions deliver a tightly-integrated, yet flexible architecture for demand analytics, forecasting, planning, replenishment, SKU rationalization and other demand-driven optimization solutions to provide a sound foundation on which companies can solidify and enhance their supply chain initiatives. To find out why global supply chain leaders such as CVS, Home Hardware, Burris Logistics, CRP Industries, Europris, K. Ekrheim, Martin Brothers and Procurator trust Blue Ridge's unmatched solutions and expertise as their inventory alignment partner, visit http://www.blueridgeinventory.com.
About Inbound Logistics
Inbound Logistics is the pioneering publication of demand-driven logistics practices, also known as supply chain management. IL's educational mission is to guide businesses to efficiently manage logistics, reduce and speed inventory, and neutralize transportation cost increases by aligning supply to demand and adjusting enterprise functions to support that paradigm shift. More information about demand-driven logistics practices is available at http://www.inboundlogistics.com