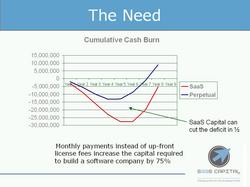 said Todd Gardner, CEO for SaaS Capital.
San Francisco, CA and Cincinnati, OH (PRWEB) September 18, 2007
SaaS Capital Inc., ("SCi"), the first specialty finance company to exclusively serve the Software-as-a-Service (SaaS) market, today announced their sponsorship of salesforce.com's Dreamforce Partner Summit scheduled for September 19, 2007 in San Francisco, California.
Salesforce.com's annual Partner Summit will feature inspiring keynotes, expert panels, and specialized tracks for both business development and technical teams. The event is FREE for all partners at Dreamforce '07 Global Gathering, or for anyone interested in becoming a salesforce.com partner.
In order for the SaaS market to achieve industry expert growth forecasts, some of which exceed a compound annual growth rate of 20 percent through 2011, SaaS companies will require equity," said Todd Gardner, CEO for SaaS Capital. "Our goal at SaaS Capital is to fuel the growth for the on-demand world and salesforce.com's Partner Summit & AppExchange marketplace are perfect venues for pursuing that goal."
Gordon Ritter, founder and general partner for Emergence Capital will join Jason Maynard, equity research analyst from Credit Suisse and Eric Berridge, principle and co-founder of Bluewolf, for a panel discussion titled, IdeaExchange Live - Perspectives from the Frontline. While the Business Web has transformed the software industry, this session will focus on -- What's Next, as this panel of partners, customers, and venture capitalists share their on-demand experiences and ideas for continued success.
For more information or to register for salesforce.com's Partner Summit, visit: http://www.salesforce.com/dreamforce/tracks/partner_summit/
About SaaS Capital
SaaS Capital launched its business to provide working-capital debt facilities to Software-as-a-Service (SaaS) companies. By leveraging the predictable revenue streams and future contract values of the SaaS model, SaaS Capital's debt facilities allow SaaS companies to accelerate future cash-flow streams to fund operations today. SaaS Capital's products are non-dilutive, provide more availability than traditional accounts receivable financing, and are structured with flexible terms to meet the needs of SaaS businesses. To learn more about SaaS Capital call visit http://www.SaaS-Capital.com or call 513-277-0898.
###