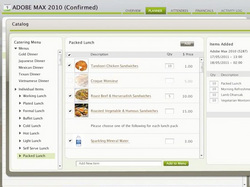 San Francisco, CA (PRWEB) March 17, 2011
Priava is a leading developer of enterprise management software for event bookings. The software is used by governments, conference and exhibition facilities, catering and event companies, entertainment venues, and universities. Priava wanted to expand into new markets internationally but without incurring the overhead of "high-touch" customer sales, marketing and support associated with traditional enterprise software. They decided to migrate their enterprise event planning solution to Software as a Service (SaaS) and engaged Catalyst Resources to redesign the on-premise application for delivery as web-based service.
Catalyst worked with Priava to redesign the application for the Internet, streamline business processes and optimize workflow in the core application with the result that customers could organize events 60% more efficiently. In other words, the workflow optimization reduces the amount of 'clicks' required to achieve an outcome by almost two - thirds.
Simultaneously Catalyst worked with Priava to systematically identify all of the "touch-points" in the customer life cycle - marketing, signup, provisioning, configuration, billing, monitoring, renewals, and support - and determine which components could be exposed to users via software using automation and self-service.
Based on iterative user validation testing, Catalyst designed the life cycle infrastructure for efficient, high volume sales and support, short sales cycles, and rapid on-boarding -- all supported by automation capable of driving business through the entire purchase process from awareness to close, to on-boarding, to support. Driving complexity and cost out of the software customer life cycle was essential to achieve the economies of scale and broad market appeal that Priava required.
Catalyst also mapped out a strategy for progressively enhancing other areas of the site for visual design, interaction design and user interface, as well designing the site to be easily deployed via SaaS in multiple languages and able to handle multiple currencies.
The Catalyst redesign for SaaS has enabled Priava to move from a one-to-one to a one-to-many sales operation, where managing the lifecycle of a customer from the moment they make an initial enquiry to paying for the service is completely automated. The optimized core application user experience coupled with migrating the customer life cycle into software, reduced total cost of service by lowering the average customer acquisition cost, and lowering the recurring cost of service. This enabled Priava to deliver enterprise-class capabilities at a fraction of the cost traditional on-premise software.
About Catalyst Resources
Catalyst specializes in the unique demands of scalable, modular and reusable UI for Software as a Service (SaaS), financial services and Rich Internet Application design. Since 1994, Catalyst Resources has successfully delivered user interface design for more than 350 mission critical software applications and more than 60 SaaS applications, to leading global firms including ADP, Applied Biosystems, Barclays Cisco, HP, InterCall, PRN, and SAP. Headquartered in the Silicon Valley, Catalyst Resources employs accomplished UI designers, information architects, developers and business professionals. More information about Catalyst Resources can be found at http://www.catalystresources.com.
About Priava
With offices in London, Melbourne and Sydney, Priava prides itself on producing user-friendly, competitively priced software products that provide comprehensive meeting and event management solutions on a global level. The company is renowned for its high levels of customer service and maintains the principles of integrity, quality and long-term client satisfaction. More information at http://www.priava.com.
###