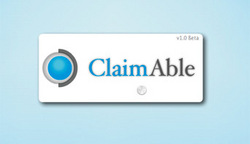 The SaaS model is already an extremely attractive and compelling offering for our end users. We think this will further be enhanced with a network of localized resale partners who can extend our brand and vision, providing dedicated support to customers
London, UK (PRWEB) January 19, 2009
Vaulthouse, the company behind ClaimAble, a Software-as-a-Service claims management application, have just launched a reseller program allowing IT professionals and companies, in the US and UK, to partner with them to sell the ClaimAble product.
ClaimAble is an innovative SaaS application that provides low-cost workflow management to the claims industry. The system is now open for resellers to become authorized partners, who will have two main objectives: sell to new customers and support existing ones.
"The SaaS model is already an extremely attractive and compelling offering for our end users. We think this will further be enhanced with a network of localized resale partners who can extend our brand and vision, providing dedicated support to customers", says Miles Tinsley, Managing Director at Vaulthouse. "This hands-on approach is especially important in the enterprise market. Our customers are making an important business decision when they choose ClaimAble, they appreciate having a human to talk to, especially for ongoing support."
The SaaS market for businesses is becoming increasingly prominent and Vaulthouse believe the key to success is to provide outstanding customer support. While it is important for customers to have the ability to customize and change the software themselves, giving them the option to call upon a dedicated support network adds to usability and further reinforces the product as a viable business tool. This is where resellers will broaden the reach of ClaimAble for both sales and after-sales customer care.
Tinsley goes on to elaborate on the benefits to resellers, saying: "All resellers earn 20% of monthly sales and we give them everything they need to do a great job. Things like marketing material, tips and advice, and a dedicated admin portal to help with customer management and to monitor earnings."
ClaimAble takes an innovative approach to claims management. It is lightweight, powerful and affordable, with price plans to suit all business sizes. Vaulthouse have translated these principles to the reseller admin portal and created an efficient way for resale partners to monitor and control their accounts. Resellers will be able to create new customer accounts and have access to the same customization tools Vaulthouse use themselves. Also, there will be controls to make changes to existing customer accounts and access to support and help information. The system will provide performance metrics to the reseller, showing statistics on usage and earnings.
Vaulthouse aim to specifically target the SMB market with their reseller network, which will allow them to have a local presence in many areas. Typically, small and medium size firms are often priced out of the market with expensive, bespoke software. ClaimAble aims to break down these preconceptions with flexible, affordable pricing that translates to a low barrier-to-entry to this powerful business tool.
For more information please contact:
Vaulthouse Ltd
+44 845 474 125
###