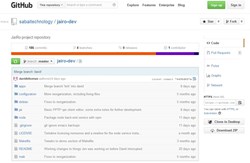 'Security and privacy functions like family filtering, data encryption, and virus scanning - it makes sense for these to run on the network, rather than on individual devices.'- William Haynes, CEO & Founder of Sabai Technology
Simpsonville, SC (PRWEB) January 28, 2014
Sabai Technology recently announced the publication of source code for their JaiRo Project on GitHub. JaiRo is an x86 routing platform based on Linux Server. The goal of the project is to bring a new level of power and flexibility to the small and home office network.
"Our vision is to bring several key services to a powerful device, at the network level," explains William Haynes, CEO and Founder of Sabai Technology. "Security and privacy functions like family filtering, data encryption, and virus scanning - it makes sense for these to run on the network, rather than on individual devices."
The project, sponsored by Sabai Technology, was first announced at 2013's SouthEast Linuxfest. While the project is still pre-alpha, the company is currently recruiting developers and Linux hobbyists who are interested in participating in alpha or beta releases of the project.
"The development team is excited to reach this pivotal point of code publication. It's one thing to say that we are going to offer an open source project, but it is another to get the code out there for all the world to see. It's nerve-wracking but exciting," explains front-end developer Jen Ngetich. The development team has announced that all code updates and commits will be pushed to the public JaiRo Project repository. Daily progress can be viewed at the Sabai Technology GitHub.
Along with the codes publication, the development team gave some advice on the JaiRo development blog, "JaiRo is very much a work in progress and its code should be regarded appropriately. You will not find a detailed read­me because we have not yet reached a point where we can offer support for our code. It has been released in the spirit of openness – we encourage you to browse and enjoy it, but please allow us to reach a more advanced development phase before holding us accountable for bugs and other development issues."
The JaiRo team recently hired a fourth full time developer to the JaiRo team in an effort to ramp up development. The team is comprised of a mix of front- and back-end developers, the majority of which have a deep Linux background. Sabai Technology has plans to return to SouthEast Linuxfest 2014, with an update to the project.
Sabai Technology is well known for making VPN Routing accessible to everyday users. Their easy-to-use Sabai OS includes a 3-step OpenVPN setup. In 2012, the company released its first x86 product, the VPN Accelerator. "It was the overwhelming response and success of the Accelerator project that inspired us to move forward with JaiRo Project," explains Haynes. "Our users crave more power and flexibility on their networks. The world is ready for a router that does more."
For more information about JaiRo Project, visit JaiRoProject.com where there is a demo, community site, and developers RedMine dedicated to the project. Source code is now available at GitHub.com/SabaiTechnology. More information about Sabai Technology and their products can be found at, SabaiTechnology.com.