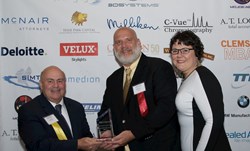 Sabai Technology is so proud to be the winner of an InnoVision Award. We are proof that a small company can have a global impact.
Simpsonville, SC (PRWEB) November 19, 2013
Sabai Technology is the winner of the prestigious 2013 InnoVision Small Enterprise Award. The only award of its kind, the InnoVision awards distinguish outstanding leadership, innovation, and technological excellence in South Carolina. Presented by McNair Law Firm, the awards were judged by a group of independent panelists from outside the state. Judging is based on the description, complexity, and result or impact of the innovation. Sabai Technology was chosen out of three distinguished finalists for the Small Enterprise Award.
"Sabai Technology is so proud to be the winner of an InnoVision Award. We are proof that a small company can have a global impact. Our products allow deployed military, state department, and business expats all over the world to connect electronically back to the United States. To date, we have shipped our product to thousands of customers in over 120 countries," says William Haynes, Founder and CEO of Sabai Technology.
The award is presented for the company's success with consumer VPN Routers. The company's firmware, Sabai OS, is known for its simplicity and fast setup. These network routers work with many consumer VPN providers like StrongVPN, Private Internet Access, and PureVPN, which have become increasingly popular in recent years. "With three clicks a customer can change their geo-location from wherever they are physically - Moscow, Dubai, Paris - to where they want to be - New York, San Francisco, or Miami. This gives them access to content and a level of cyber security while abroad that they wouldn't otherwise be able to," explains Haynes.
Sabai sells their custom router firmware, Sabai OS, pre-installed on several trusted router brands including Asus, Linksys, NETGEAR, and Belkin. Routers featuring Sabai OS are available from the companies website starting at just $99 and include one-on-one live technical support after the sale.
The 2013 InnoVision Small Enterprise Award presentation to Mr. Haynes and the company's Chief Operating Officer, Anja Smith, was held recently at TD Convention Center in Greenville, South Carolina. InnoVision Awards are presented annually in seven categories including technology development, technology application, education, community service, sustainability, and lifetime achievement, in addition to small enterprise. "We are truly honored to be recognized by the InnoVision community. As a tech company in South Carolina, it is exciting to be awarded for our participation in this growing innovation economy," concludes Haynes.
For more information about InnoVision Awards visit InnoVisionAwards.org. For more information about Sabai Technology products, please visit SabaiTechnology.com.