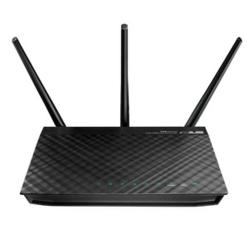 This router was made for bandwidth heavy tasks like HD video streaming and multiplayer gaming.
Simpsonville, SC (PRWEB) February 27, 2013
When Sabai Technology refreshed its consumer VPN Router product line in early February, VPN customers noted several big changes. Tried and true Linksys models received spec lifts, new names like NETGEAR and Belkin were introduced, and the Asus brand presence expanded. Refurbished by Sabai Technology with Sabai OS, the company's proprietary firmware, the seven VPN Router models and popular VPN Accelerator provide a solution for every kind of VPN user.
"We knew customers love Sabai OS and that the new edition would be a hit. But, there was a lot of speculation prior to sale about which new model would be the most popular. Adding the Asus RT-N66U at the very top of the line and then the Belkin Share at $99 meant hitting price points we hadn't seen before. The big question was whether customers would respond to the value or the power," comments chief marketing officer Anja Smith.
Almost immediately, the answer became clear. "While we were still in pre-orders, we knew. It was amazing how many customers were responding to the specs on the Asus RT-N66U," continues Smith. Nicknamed the "Black Knight," the RT-N66U features a unique look and incredibly high technical specs. Because VPN consumers are typically very concerned with speed - the nature of the connection often slows down local speeds - the fondness for the RT-N66U makes sense. When paired with Sabai OS, the company's proprietary VPN enabled firmware, this already powerful router becomes a true workhorse.
The RT-N66U performs extremely well in both speed and wireless coverage. Ticking the boxes for dual band and multiple USB ports doesn't hurt either. This router was made for bandwidth heavy tasks like HD video streaming and multiplayer gaming. Once installed with Sabai OSv5, this high spec router suddenly becomes a consumer VPN Router worth writing home about.
Sabai OS is a proprietary firmware built on open-source software which allows advanced features such as native OpenVPN and PPTP handling and multiple gateway control. The company quietly introduced Sabai OS version one in 2011, while version five of the operating system was released early 2013 to much fan-fare. For the first time Sabai VPN Routers are able to work with a wide variety of VPN providers, allowing the company to help more VPN consumers enjoy true VPN freedom.
Sabai Technology is a VPN networking solution for the every-man, offering easy to use VPN Routers that work with some of the largest VPN service providers in the world. Customers use Sabai's products to extend their PPTP or OpenVPN account to multiple devices and utilize VPN services on products that aren't otherwise accessible. For more information, visit http://sabaitechnology.com.