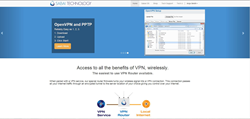 "Customer service and access to the technology have always been our No. 1 priorities." - Anja Smith, CEO of Sabai Technology
Simpsonville, South Carolina (PRWEB) August 26, 2014
Sabai Technology, creator of the Sabai OS VPN router firmware, is announcing the debut of a new website that better meets our customers' needs with a more streamlined and modern look that allows us to highlight product functionality and benefits like never before.
The cleaner design improves navigation and better organizes customer resources, such as Sabai Tech U, a one-stop instructional center for beginners and experts alike. This makes all instructions, including those specific to VPN providers, easily accessible online.
The new site allows customers to shop for router brands such as Asus, Linksys and Netgear, learn about our exclusive Sabai VPN Accelerator, access tech support, read customer comments and more.
"The biggest complaint about our old website was that, if you didn't know what you were looking for, it was unclear why or how you would use our products. So we started from scratch with the content," explains Sabai Technology CEO Anja Smith. "Whether completely new to VPN routers or a veteran of the technology, our aim was to anticipate and answer consumers' questions."
The redesigned site also highlights significant improvements in Sabai Technology's customer service policies. We've extended our hardware guarantee from 90 days to a full year. We've also extended our Sabai Freedom technical support subscription from 90 days to a full year on VPN routers and VPN Accelerator.
"Customer service and access to the technology have always been our No. 1 priorities," says Smith. "We are a small company, but our philosophy is to be as generous as we can afford to be with our policies. This policy expansion is just a natural progression of that philosophy."
Sabai has also added free shipping to all U.S. military addresses (APO/FPO/DPO addresses).
The improvements to Sabai's website were made possible through an upgrade to the Odoo platform, which allows us to better integrate manufacturing and fulfillment functions into our business. This will allow Sabai Technology to grow more effectively and fulfill our customers' needs now and into the future.