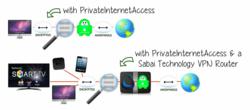 Our mantra is Technology for the People. Anything we can do to bring this kind of internet freedom to more users, gets us excited.
Simpsonville, SC (PRWEB) April 09, 2013
Sabai Technology, a leader in consumer VPN Routers, and Private Internet Access, a VPN service provider, confirmed the compatibility of their products and services last week. The two companies plan to work together to promote the increased network security and privacy that a network-wide VPN setup offers consumers.
Consumer VPNs are a growing worldwide cottage industry as consumers discover the benefits that hosted Openvpn and PPTP connections offer. Private Internet Access lists protecting privacy and identity and unblocking censorship filters as leading advantages of their service. When paired with a VPN Router by Sabai Technology, these services encompass the users entire network, leaving a private, secure, and anonymous tunnel for the users traffic. Without a VPN Router, these services work on a device by device basis, leaving room for back-door attacks and packet sniffing. VPN Routers also allow users to serve VPN to clientless devices, meaning a device that is network enabled but not VPN enabled.
Early in 2013, Sabai Technology released Sabai OSv5, the fifth generation of their branded firmware, widely considered the easiest to use consumer VPN Routing product. Among the new features announced with OSv5 was an increase in VPN provider compatibility. Specifically, the company cites the ability to use Openvpn configurations that require username and password and/or additional certs or keys, as in the case of Private Internet Access.
"Five months ago, before OSv5, this wouldn't have been possible. Sabai is very excited to add Private Internet Access as one of our service providers. They have a solid reputation in the VPN community and provide a great service," quotes William Haynes, Sabai Technology president and founder. "Our mantra is Technology for the People. Anything we can do to bring this kind of internet freedom to more users, gets us excited."
Those interested in learning more about the effects of a Private Internet Access subscription and VPN Router by Sabai Technology should visit either SabaiTechnology.com or PrivateInternetAccess.com for more information. Sabai Technology products continue to support an array of VPN providers, for a complete listing, please visit the company's website.
About Sabai Technology: Sabai Technology is a VPN networking solution for the every-man, offering easy to use VPN Routers that work with some of the largest VPN service providers in the world. Customers use Sabai's products to extend their PPTP or OpenVPN account to multiple devices and utilize VPN services on products that aren't otherwise accessible. For more information, visit http://sabaitechnology.com.